From our work with therapists and other behavioral health professionals, we have learned that the way you choose to decorate your therapy office can say a lot about you as a person and the way you treat your clients. 
Odds are you want to convey a sense of calm to your clients as many of them are already dealing with difficult emotions and feelings. Coming into a space designed to help them feel at ease will help you both navigate the healing journey.
Here are some tips to help you create a warm, approachable office that sends the message you want. 
Group or Solo?
You have a couple of different options when choosing the right place for your practice: 
Your own individual office in a commercial building.

An office in a suite where

other clinicians are also practicing

. 
While there are pros and cons to both of these models, go for the option that suits you and your practice the best. 
If you operate a solo practice but miss the camaraderie that comes from networking with other therapists, you might want to look into renting an office in a suite. Or if you tend to be more introverted or prefer the final say in how the space is laid out, a solo office may be your best bet. 
Layout
When you're looking for the right place to fit your needs, your clients' privacy and comfort should be your top consideration. For this reason, it's better to choose an office with solid walls rather than windows that look out into your waiting room (outdoor facing windows are fine). If you do have windows that look out into the waiting area, cover them with a good window treatment. 
Ensure your clients have a comfortable place to sit and wait while you finish up your previous session or that quick in-between-appointments lunch. You'll also need at least one or two chairs.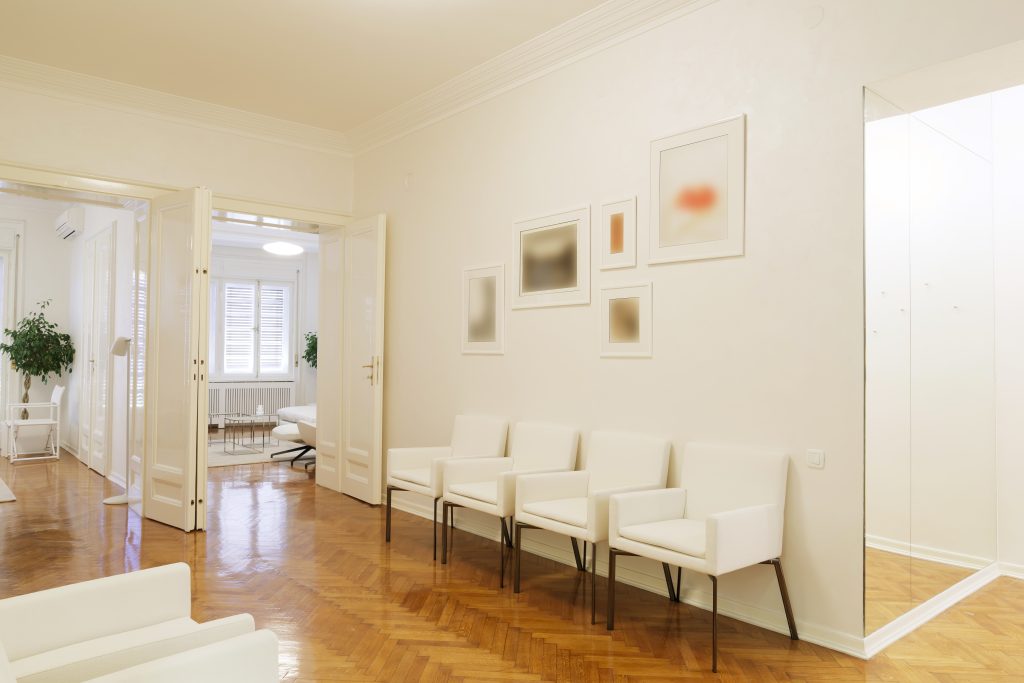 Decor
Once you've found the perfect space, you'll need to make it your own! There are many unique and special ways you can decorate your therapy office to keep clients comfortable while still expressing your own style.
Color
Most clinicians go for soft, muted colors on their walls so as not to overwhelm or distract clients with harsh tones. However, that doesn't mean you can't choose a bold color for an accent wall, or even a nice printed wallpaper to add some texture and visual interest. (If you're renting, peel and stick wallpaper is the better option.) 
Color psychology tells us that various colors affect us in different ways. For example:
White: associated with cleanliness and purity

Light purple: has been found to help relieve tension

Green: hits the retina directly so your eye muscles will be less strained

Blue: creates a calming effect and is thought to lower your blood pressure

Yellow/orange: can make you hungry

Brown: elicits a feeling of reliability and warmth

Light pink: seen as gentle and calming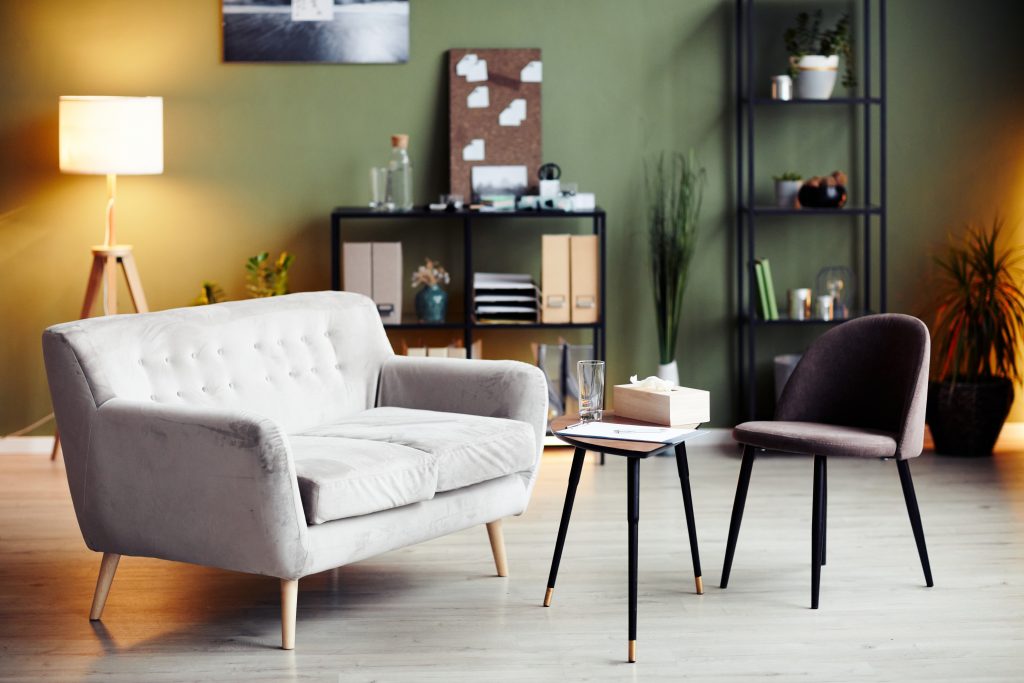 Furniture
Sure, you could get one of those chaise lounges for your clients to lay on and go for the old pop culture therapist stereotype. Or, more appropriately, you could set up a couple of squishy armchairs and a comfortable sofa. You'll also need a good chair for yourself. 
If you plan on seeing multiple patients per session, you'll need more seating. Couple or family therapists in particular should take this into account when choosing furniture. You don't want to force someone to sit on the floor or stand for the entirety of a 50-minute session! 
You'll also need a desk where you can conduct admin work, such as billing, scheduling, intake calls, and general housekeeping items. Don't forget a supportive desk chair.
Finding dedicated book storage (rather than throwing them on any flat surface) is a good way to humanize your space and appear more professional. You could place a small end table with shelves next to your sofa, or, if your book collection – which definitely includes a copy of the latest version of the DSM – is sizable, you might need a bookcase.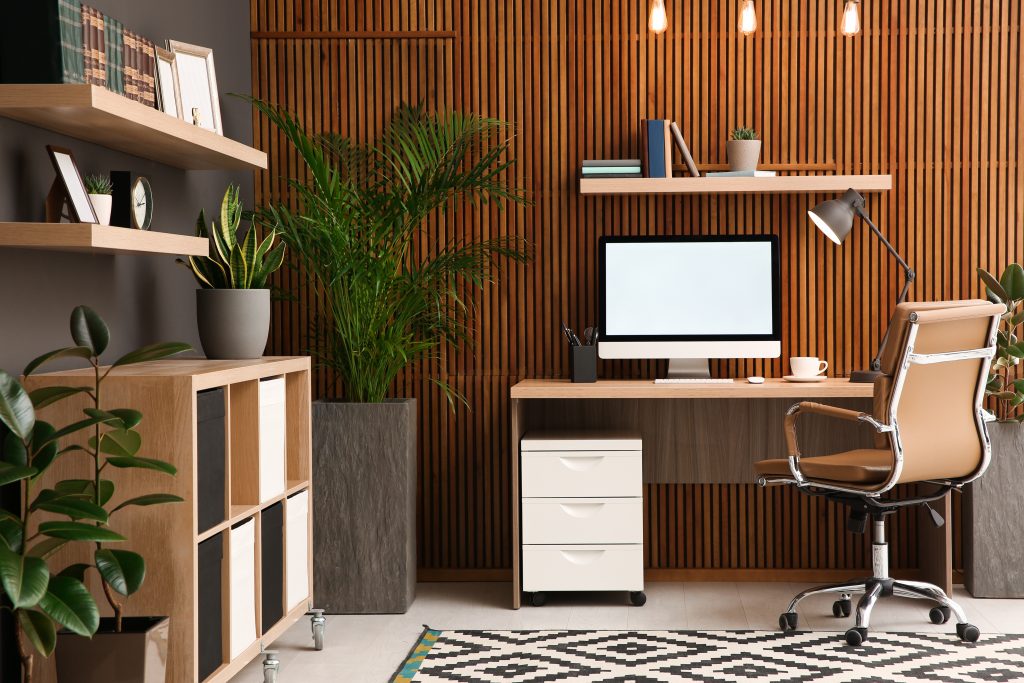 Artwork
For wall decor, you'll want to focus on more abstract art with soft colors that won't distract or overwhelm your clients. That doesn't mean you should go for generic artwork or pick up those IKEA prints that hang everywhere. That could give off sterile doctor's office energy, which could make your clients a little bit less comfortable. Artwork that evokes a strong emotional response is great in a museum – but not in your therapy office.  
You might not want to go as far as putting up family photos, but if there's a particular artist whose work you enjoy, consider hanging a print of theirs. Shop local craft markets and sellers to really make your space unique!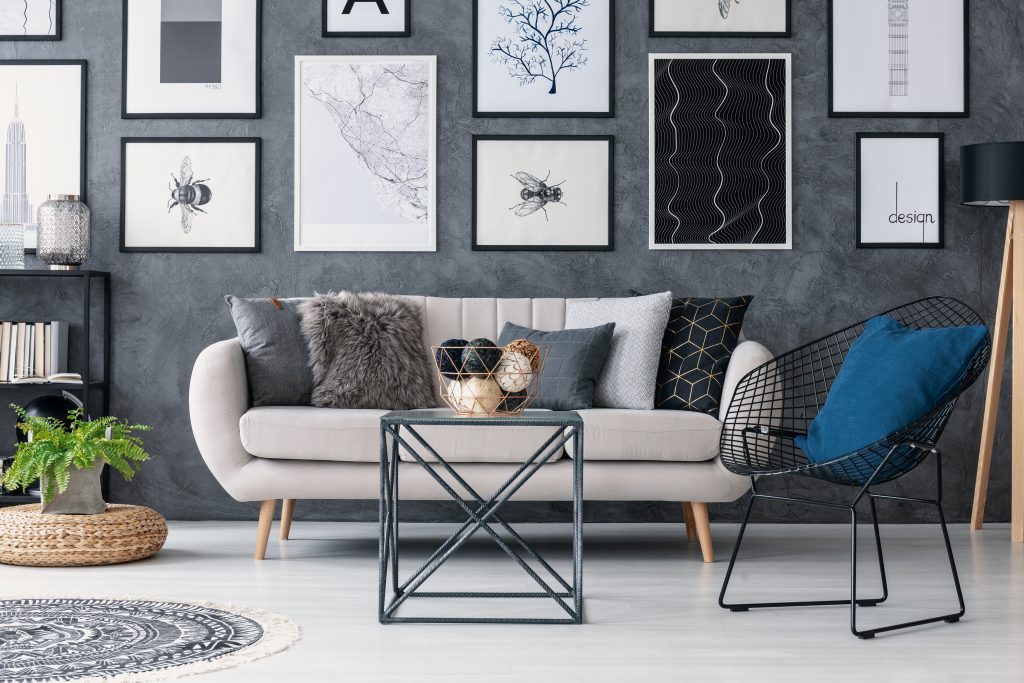 Finishing Touches
Your room might need a rug, especially if the office floors are hardwood or concrete. Warming up your space will be key for your clients' comfort: some accent pillows and a warm and fuzzy throw blanket are also a great add.. Keep them handy for clients who might need a little extra comfort. 
Finally, don't forget to add some greenery. The very act of looking at trees has been shown to lower blood pressure, so consider a nice indoor fiddle leaf fig or one of these other options.
If you're concerned about allergies or your ability to keep a plant alive, fake plants will work just fine.  
You're going to spend a lot of time in your therapy office. Of course the space should work for your clients, but it should also work for you! Your mental health is paramount to running your business, because when you feel at peace, you can do your best work and show up for your clients in the ways they need you.