Negative reviews are inevitable for any business. And if you serve a lot of clients, you can expect to accumulate plenty of them over time.
No one looks forward to dealing with these critical reviews. Unfortunately, even if the reviews are unfair or even untrue, you can't ignore them. They have the potential to do serious damage to your company's brand.
The good news is that by responding appropriately, you can turn bad reviews into an opportunity to highlight your strengths.
At The Receptionist, we're super proud of the great reviews our customers leave for us on software review sites like Capterra and G2. However, our reviewers are still occasionally unenthused — and that's when we spring into action. Here are some of the best practices we use to manage negative reviews online.
Respond to Negative Reviews Quickly
Responding right away to a negative review shows that your team is on top of things and can address problems quickly. Plus, the longer a review stays on your site without a response from you, the more people will see the criticism without any of your context or clarification.
To make sure your team responds as quickly as possible, establish a point person to monitor reviews. Their job could also include monitoring and responding to negative social media mentions or other negative media attention. Most social media outlets and review sites have notification settings that make monitoring relatively simple, and setting up a Google alert can help you track other kinds of negative online attention.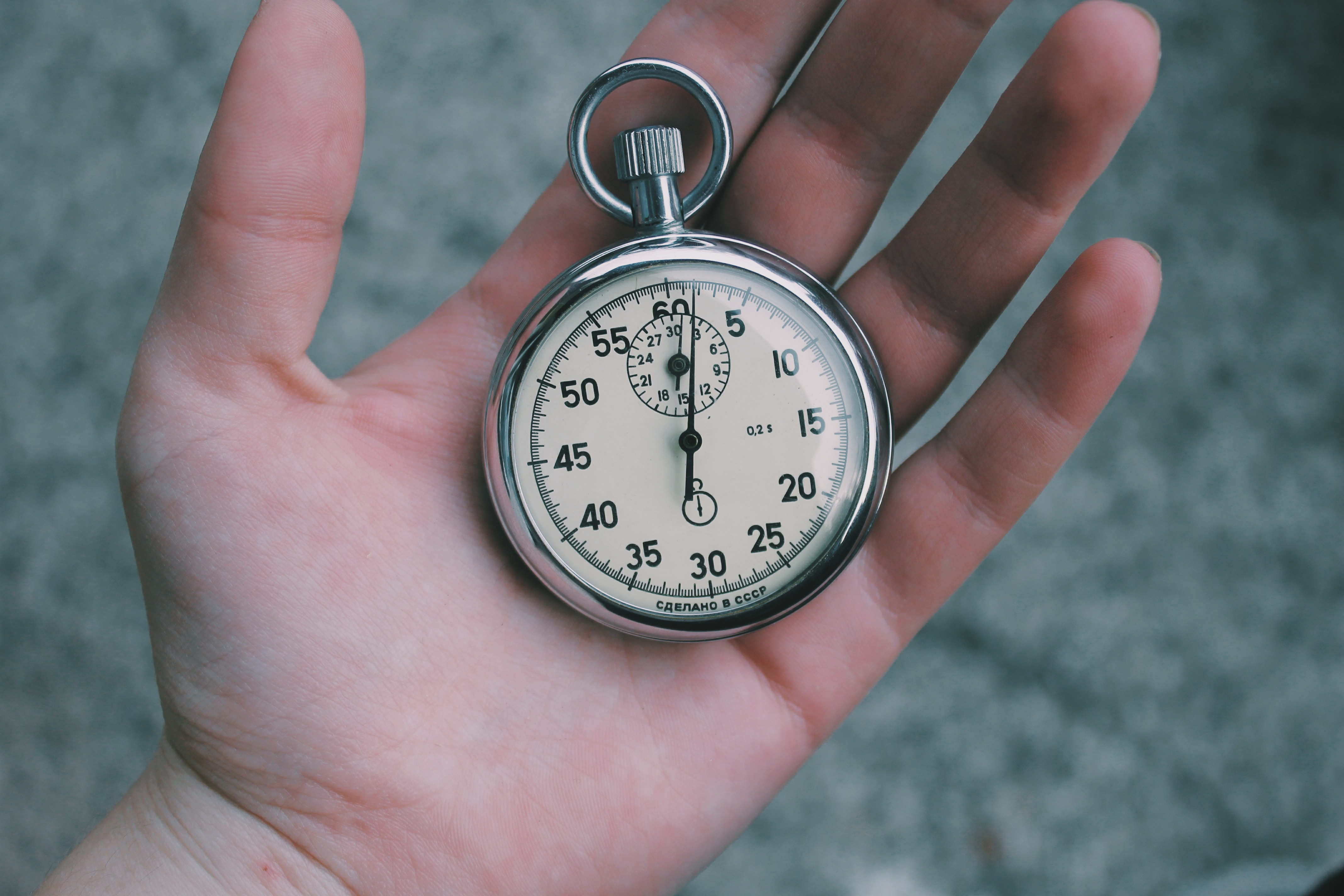 Choose an online reputation monitor who is able to dedicate time and attention to crafting their responses. This person must also have a deep understanding of your brand's tone, and be able to communicate clearly and effectively. Don't forget to establish a substitute when the designated review responder isn't available.
Start the Response With a Note of Appreciation
Each critical review you receive is a valuable chance to get insights into how you're doing business.
In most cases, critical reviewers have taken the time to articulate real problems, problems that other users have experienced but have never bothered sharing with you.
That's why we always start each review response by thanking the reviewer for taking the time to give feedback. A note of appreciation acknowledges their efforts and sets the right tone for your response.
Acknowledge That You Understand the Problem, and Use Empathy
We've found that when people express frustration to customer service or via an online review, their main desire is to be heard and validated. They want to know that their feedback will actually result in some change for the better, even if they don't have a problem that needs immediate resolution.
Your customers will see right through a canned response to their complaint that feels too formal or generic.
Follow your note of appreciation with a quick summary of the problem that shows you've truly heard their complaint and understand the issue. (If the problem is still unclear, this is where you should ask for clarification.)
Good review responses, like good apologies, should also aim to acknowledge how the problem made the customer feel (frustrated, confused, upset, inconvenienced, etc.).
Take the Conversation Offline (And Include Contact Information)
Social media sites and review sites generally aren't the best places to continue the conversations necessary to resolve any issues highlighted in a negative review.
At the end of your review response, assure the reviewer that you're dedicated to fixing the issue or improving the problem. If you don't already have the contact details needed to reach them directly, give them the contact information for the right person or department at your company.
It's not uncommon for companies to simply direct the reviewer to the customer support team, using an email or phone number that will automatically start a support ticket and track the status of the complaint.
However, it can be even more effective to include the name and contact info of an actual person at the end of your response. This can make the response feel more personal, and maybe even make the reviewer feel more comfortable when they initially reach out.
At The Receptionist, our president personally responds to online reviews, and he signs each response with his personal email and phone number. We take a radical approach to customer service, and expect everyone on staff to contribute in helping customers. That starts at the top.
Read more about our approach in this article: Here's What Happens When Your CEO Takes Customer Calls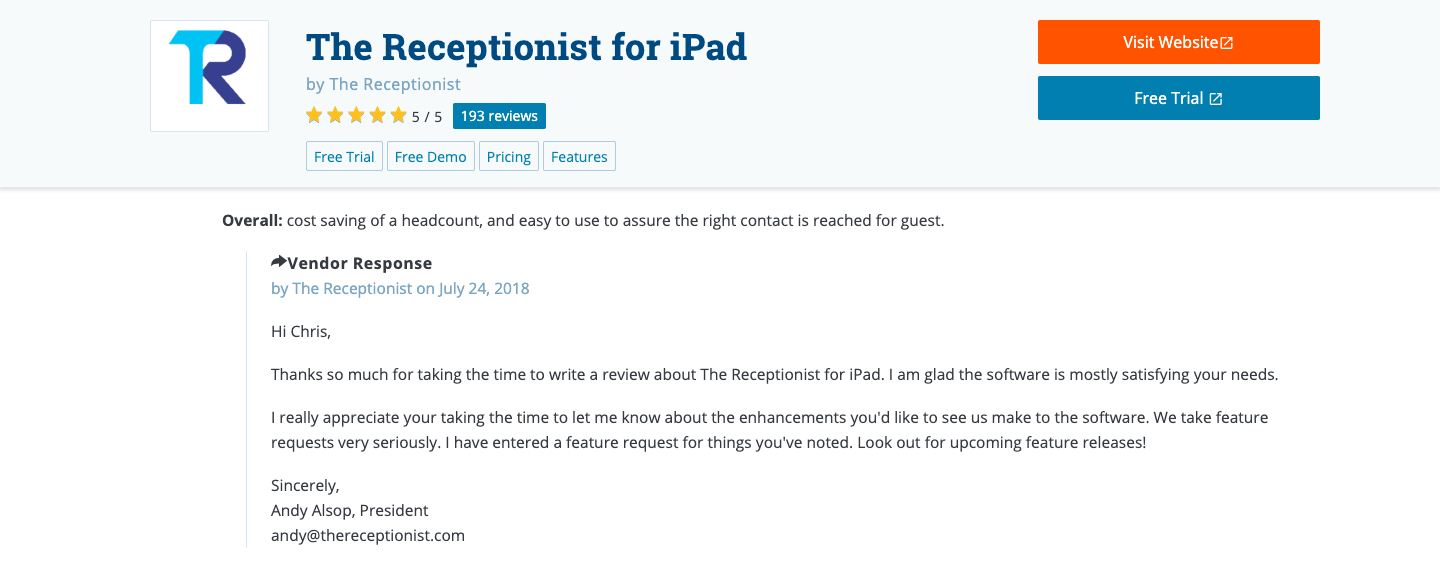 Here's one example of how Andy responded to a mediocre Capterra review.
Follow Up on the Complaint
Most review platforms allow users to modify or change their reviews after they initially make them. If your team goes above and beyond to resolve the problems that prompted the review, there's a chance that the reviewer could bump up their rating, or at least add a note about how their issues were fixed.
Regardless of whether it results in a better review, personally following up on complaints until they're resolved is an important best practice for your customer support team — and one of the fundamentals of Radical Support™.
Work to Minimize Critical Reviews
Having a plan to respond to critical reviews is essential. However, you should also still be working to prevent negative reviews from being posted in the first place.
Of course, the easiest way to achieve this objective is to pay special attention to your customers' experiences with your company and provide excellent support when they need it.
But you can also do your best to address potential problems before a customer posts about them publicly. If the customer decides to reach out to your staff first and is satisfied with their response, they might never post online at all.
Having a plan to respond to critical reviews is essential. However, you also should still be working to prevent negative reviews in the first place.
Click To Tweet
Make it as simple as possible for visitors to give feedback. Post a customer support phone number prominently, add a simple contact form, or consider installing a chat support window on your website.
If your customers visit your business in person instead of online, visitor management software like The Receptionist makes it easy to reach out to facility visitors after they leave and proactively ask them for their feedback. This approach gives you a chance to fix potential problems offline.
No matter how hard you try, though, there will probably still be a few critical reviews of your business floating out there on the internet. Some things are simply out of our control.
To give potential customers a more accurate view of how those critics stack up compared to the rest of your customers, you'll need to work to encourage more positive reviews of your company.
It may be human nature to focus on the negative. This Inc. columnist estimates that in general, customers are more likely to share negative experiences than positive ones, with only 1 in 10 customers leaving a positive review after a good experience.
Sometimes all it takes is a friendly nudge from you for your customers to leave a good review. You can add a request for reviews and links to review sites in email signatures, or even verbally remind customers how much you appreciate it when they share positive experiences online.
Finally, would you like to try The Receptionist to proactively manage office visitor feedback? We'd love for you to join us. You can start your free 14-day trial today and experience our famous Radical Support™ for yourself.
Along with better monitoring of the visitor experience, The Receptionist for iPad also impresses visitors, streamlines office operations, and improves facility safety and security. You can see it for yourself in a personalized demo.