By Andy Alsop, The iPad Receptionist President and CEO I became President and CEO of The iPad Receptionist in April 2015. Since then, business has exploded, with both the number of locations using the software and our MRR (monthly recurring revenue) quadrupling in my first 15 months on the job. Over the past several months, our marketing team has been interviewing iPad Receptionist customers about the secrets of their success. Today, I'd like to share some of mine with you.
A bit about my background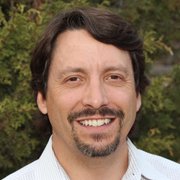 I'd been doing business in New Mexico for more than 20 years, including co-founding and being a c-level exec in several startups. I'd had some successes, including selling one company, but not quite the success I was looking for.    My wife is from Denver, so in 2014 I came here to check out the scene. I started networking and became involved in 10.10.10, which is a program that brings together prospective CEOs to create a new venture that solves a current challenge in health.  All of my networking bore fruit. In November 2014, I met Ted Guggenheim, co-founder and CEO of business texting platform TextUs, which The iPad Receptionist was a part of at the time. We had many great discussions and toyed with the idea of me joining TextUs to take over The iPad Receptionist side of the business. However, eventually, we both realized that the two platforms would function better as separate companies. So, I bought The iPad Receptionist, officially taking over on April 10, 2015.
My first-year approach to growth
The day I took over the company, we had 176 locations actively using The iPad Receptionist. One year later, we had just shy of 600 (as of this writing, we are just over 700). We've boosted our total revenue and our MRR by nearly 400%. Our team has grown from two to five full-time people, and we expect to hire at least three more this summer.  I've been intentional about my approach to growing the company. We've done everything on a small amount of capital from angel investors. I intend to continue that path so that we can remain flexible as we look toward the future.   I'm also carefully building my team. Originally, we didn't even have an in-house software developer, because I wanted to make sure I had experience with the needs of the business and hired the right people. And I did. DeLynn Berry, who is now our Director of Engineering, and Ryan Wedig, our iOS developer, have been fantastic at advancing the product, in terms of both functionality and user experience. They've blown away all of my expectations.
The 5 biggest contributors to our success
Many things need to come together for a business to succeed. Here are the top five that have helped us.
Hiring excellent people
Hands down, the #1 factor is the caliber of the team. I've been able to find high-quality people here in Denver — people who care about the mission of the company and are dedicated to its success. Without the amazing people I work with every day, The iPad Receptionist wouldn't be where it is today (not to mention a cast of outstanding contractors, but I'll save that for another post). In fact, of all of my accomplishments over the past year, this is what I'm most proud of — being able to assemble a team of people who work together so seamlessly. This is the first business that I've run where I can take a vacation for a week and never once be concerned. 
Being the first to market, at just the right time
For two businesses I started previously, we were either too early or too late to market. I had a network forensic search engine company, but it was too early. People weren't worried about network intrusions at the time — though they certainly are now! I was also involved in an electronic health records (EHR) company, but we were too late. The market was saturated. The timing is perfect for The iPad Receptionist. We were the first visitor management system in the market. And we've continued to be the leader in terms of what these systems can do. We've created a brand that people know. As companies continue to adopt technology to make their workplace more efficient, we're well positioned to enter a wide range of markets.
Appealing to a broad-based audience
Finding product-market fit is probably the hardest thing a company needs to do. One advantage of software like The iPad Receptionist is that it has an appeal across broad range of businesses. It doesn't matter whether it's a manufacturing facility, Yahoo!, or TripAdvisor, any organization that has a reception area needs visitor management. Right now especially, companies want to improve their reception areas, for better efficiency and greater security. The iPad Receptionist helps with both of those things, and also with brand image — it makes a technology company look like a technology company. We're also currently seeing a lot of interest from manufacturing and engineering companies. They have a variety of visitors coming into their offices for different reasons, and they need a flexible application that can adapt to their needs, for example, by changing what happens behind each button. We're currently the only solution on the market that can do that.
Providing great support
We have a ravenous requirement to provide absolutely stunning support. Many customers will tell us they chose us because they knew someone would answer the phone, get back to them quickly by email or, best of all, be there when they started a quick chat with us on our website. That we have succeeded in this is evidenced by how much our customers love Jessica Marshall, our customer service manager. Nearly everyone we talk to mentions the support she and the rest of our team provides as one of the best things about working with our company.
Crushing marketing and sales
No matter what business you're in, you need killer marketing and sales teams that work well together. Our inbound/content marketing initiative with Denver-based marketing firm The Growth Co. has been very successful. Our website traffic has increased significantly and we're bringing in a lot of leads. We're also closing more deals than ever before. We have an outstanding account executive, Quinn Walsh, who is amazing at being able to take care of high-volume, low-dollar sales. This is just another example of what can happen when you hire the right people with the right experience.
Lessons I learned along the way
If I were to meet my younger self today, I'd give him three pieces of advice. First, take the MVP (minimum viable product) approach combined with an Agile development methodology. I recommend finding someone who really knows and lives Agile development and "gets MVP" as your technical co-founder, CTO or Director of Engineering. Next, don't hire too quickly. Make intentional choices about who you bring on board. And trust your gut. You need be able to make the tough decisions if something isn't going as expected. Finally, take your time when picking the next big thing you're going to work on. When you're ready to join a startup team or start something on your own, everything looks new and shiny.  Make sure you know who your customers are. Invest time in studying The Lean Startup and Nail It, Then Scale It.
Our plans for the future
For all of the reasons above — great people, great support, great marketing and sales, etc. — I'm highly optimistic about the future of The iPad Receptionist. Here's what we're planning down the road. Our 1-year target is to develop a substantial feature set that's far beyond what any of the competition has. The iPad Receptionist will be the only place you can find features like the ability to scan IDs and to interface with physical security solutions. In 5 years, we'll be the standard for visitor management and starting to solve other problems that businesses have in their office, for example, integration with conference room reservation management systems. We're up for tackling anything in an office that could be connected to a visitor management system. That's it! The secrets of our success and what the future might hold. I always love hearing from fellow entrepreneurs — both new ones and those who've been around awhile. If you'd like to chat about the experience of building a business, or if you have any advice to offer me, hit me up on Twitter or LinkedIn, or shoot me an email at [email protected]. I look forward to hearing from you!