Customizing the check-in experience for your office just got even better with The Receptionist for iPad's most recent updates.
With the recent release of version 3.9.0 of the app, we've rolled out multiple customization abilities for the app's home screen, giving you more control to brand the software to your own unique location and identity as an organization.
With the version 3.9.0 updates, we added:
five new text and logo layout combinations
the ability to lock the orientation of the device
the ability to choose a preset image for use as the background image
the ability to upload a custom background image
the ability to choose the text color of the home screen message text
the ability to change the text used for the home screen button
the ability to choose the background color for the home screen button and the color of the text in the button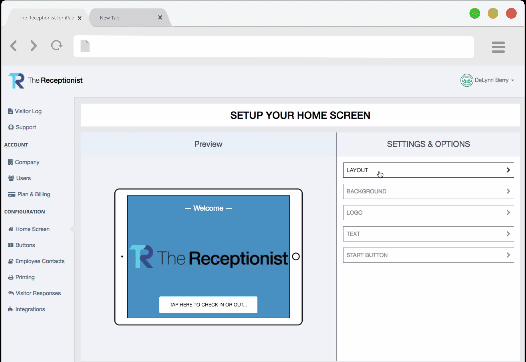 These capabilities won't be available to you until you update your app, so be sure to do that first.
Once you have the latest version of the app, you can access these new features by logging into the app, clicking on Home Screen in the left hand menu, and picking between the customizations options that display on the right side of the screen.
Find out more information on all of these updates on our Support Portal. If you have any questions along the way, find us in our chat portal (that little green icon in the bottom right of any of your account pages), give us a call at 888-315-5230, or email [email protected].