Bay Area-based Optimum Design Associates is a sophisticated printed circuit board design and assembly company whose client list includes Honeywell, Boeing, Intel, Applied Materials, and other tech firms on the leading edge of their respective markets.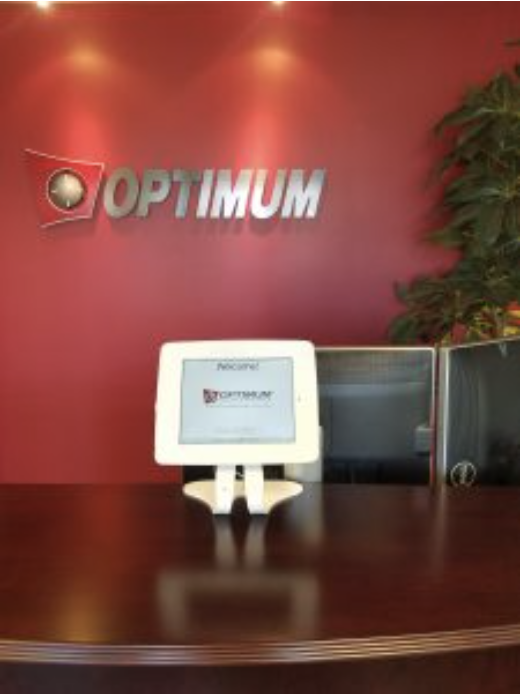 Being an industry leader means optimizing all aspects of your organization. Up until the summer of 2014, Optimum Design had an unmonitored lobby and front desk area in need of an upgrade.  "We were looking for a better way to have a visitor log that wasn't a binder and paper. People had a tendency to skip that step." Then they found The Receptionist for iPad. Optimum Design wanted a system that would prevent the office administrators from having to search the building for staff members expecting a guest. In researching virtual receptionist options, they found that "The Receptionist for iPad was a great solution. We couldn't believe it. This was a pretty clear winner. It was the all-in-one solution that we were looking for. Nothing came close to meeting our criteria. Everything else got ruled out quickly." Optimum Design rates The Receptionist for iPad a 10 out of 10. Here's why:
It's ITAR-compliant

– "This is is something we were looking for. It meets all of the

government requirements

."  

It's user-friendly

– "It doesn't require maintenance."

It saves time

– "It's very convenient that the iPad will just send a text, because most people are not at their desks if you try to call them." And when a multiple visitors arrive for a group visit, the

pre-registration feature

speeds up their individual check-in process. As for the return visitor sign-in, "Everyone seems to like it, especially when they come back to visit us again. They just enter their email, and they're good to go."

It saves money

–" It saves time and time is money!"

It makes a great first impression

– "It's often a conversation starter with new visitors."
Optimum Design has been a customer since the early days of The Receptionist for iPad. Now they take advantage of its "infinitely customizable" buttons and functions, and they readily adopt new features as they are released. Thanks, Optimum Design, for being an awesome member of the Receptionist family! To see how The Receptionist for iPad can provide a robust visitor management solution for your manufacturing facility, sign up for a free trial today! About Optimum Design Associates Optimum Design is a diversified EMS (electronics manufacturing services) company providing design and assembly services for electronic products. Our teams include (circuit design, PCB layout, SMT assembly, system integration) have developed proven methodologies that optimize the cost and quality of electronic products. Our methods are used by some of the world's most sophisticated companies, including Intel, Boeing, Applied Materials, Honeywell, Agilent, Varian, and Texas Instruments.