Modus Advanced is a leading manufacturer and supplier of die cut gaskets, custom molded rubber, and other materials used in industries such as automotive, medical, defense, agriculture, and construction. Although they are a small company, operating out of their California facility, make no mistake! They sell big around the globe. As a worldwide manufacturing provider, Modus recognized the need to level up their visitor tracking system. They were also in the process of getting their ISO certification, which requires companies to adhere to certain records management standards, for example, keeping track of their visitor logs.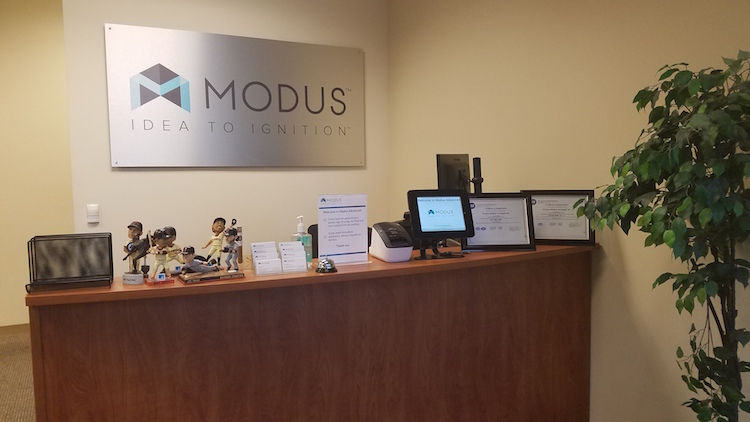 Modus began using The Receptionist for iPad in January 2015. And while the impetus for purchasing the system was ISO certification, the company has since discovered myriad other perks. Customer Service Manager Erin Stockinger says, "It improves our customers' experience. We really like having it as a company." She highlights two main additional benefits:
User-friendliness

– "The system is easy and straightforward. It updates itself. It's very easy to get people signed in." The Receptionist for iPad sends a text message directly to the person the guest is visiting. That means no one has to hunt down staff members in the warehouse. "I don't have to run around trying to find people," Stockinger says. "It does all the leg work for me"
Enhancing the company image

– "People are really impressed with it when they walk in. Nearly every visitor comments on it. The Receptionist for iPad brings us to a new level. It shows our customers we're putting ourselves forward as the world-class company we are."  
Whether your company is seeking an ISO certification, a virtual receptionist, or a 21st-century image update, The Receptionist for iPad can help get you there. Curious to know more? Check out our 14-day risk-free trial to discover all the ways The Receptionist for iPad can enhance your facility.   About Modus Advanced, Inc. Founded in 1976 under the name Western Rubber & Supply, Inc., Modus Advanced is a leading fabricator and distributor of performance polymers and engineered solutions for the OEM marketplace. We create custom components for clients who use our products in everything from electric vehicles, to military weapons, to external heart pumps. Latin for "measure," "method," or "way," Modus conveys our commitment to advanced materials, comprehensive capabilities, and rigorous quality. Best known as part of the phrase "modus operandi," or "M.O.," this name is in line with our philosophy of going above and beyond for our customers and our focus on designing efficient, precise processes that achieve consistently superior results for our partners.