Herkimer Central School District (HCSD) serves a small student body of 1,200 from kindergarten to grade 12 in Herkimer, New York, just 15 miles east of Utica. The teachers, faculty, and staff who run HCSD believe strongly in preparing students for the future via innovative technology and ideas.
One of those people is Ryan Orilio, HCSD's Technology Coordinator. Orilio oversees everything tech at Herkimer Elementary School and Herkimer Junior/Senior High School.
The front desks of both schools are constantly bustling with activity, so Orilio wanted to find an iPad check-in kiosk that would automatically print a pass for students arriving late to give to their teacher. The goal was not only to free up the administrative staff's time and space, but also to provide an accurate record of who comes in and when.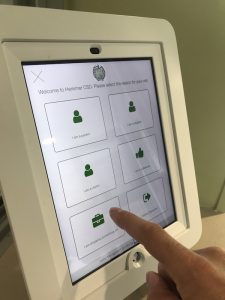 With these needs in mind, Orilio investigated many iPad visitor management software options. The Receptionist for iPad was the only one that fit the district's needs. "The other options only offered business solutions that weren't easy to use," he says. "The UI was clunky and I couldn't filter by student name. And there wasn't a way to manage multiple locations."  
One of the key features Orilio was looking for was the ability to customize the visitor badges depending on who checks in — a student, a parent, or another visitor. "When students sign in, it prints something totally different compared to when parents sign in."
This customization is also helpful when parents need to drop off things, like a forgotten lunch. in that case, the badge contains the student's name so the item can easily be delivered to the right person.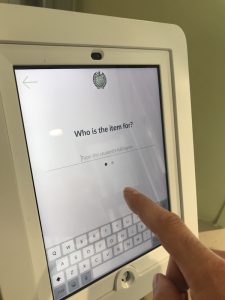 An added benefit of using The Receptionist for iPad, beyond the passes, is the visitor log. "My principal likes it because we can see who's in the building at all times," says Orilio. Students and visitors are impressed as well. "We get a ton of compliments. Visitors always ask about it and I've sent info about it to a couple other schools."
"Overall, I'm totally happy," says Orilio. "I'm constantly looking at the visitor log and filtering for students. Other solutions didn't have that capability." Based on this success, HCSD plans to expand their use of The Receptionist for iPad this coming school year. "In September, we expect to add check-in kiosks to three or four more entrances for a district-wide solution." Orilio also plans to try visitor notifications in the fall.
We're excited to help Herkimer Central School District staff streamline their front desk processes using technology that matches their forward-thinking values. Are you interested in how The Receptionist for iPad can work for your school? Start your free 14-day trial today.
About Herkimer Central School District
The Herkimer Central School District educates approximately 1,200 students between grades kindergarten and 12. The district houses two schools: Herkimer Elementary School, located at 255 Gros Boulevard in Herkimer, which serves students in K-6; and Herkimer Junior/Senior High School, located at 801 West German Street in Herkimer, which serves students in grades 7 through 12. All district activities, programs, and goals are funded by an annual budget of roughly $22 million.