Intellectual property (IP) law firm Martensen IP more than understands the importance of privacy. Their services focus on identifying and securing the rights that make companies competitive—patents, trademarks, copyrights, and trade secrets. Located in Colorado Springs, CO, Martensen IP serves emerging growth companies throughout the Front Range and on a national scale. They identify what IP assets make their clients unique and protect those assets, allowing for continued growth and success.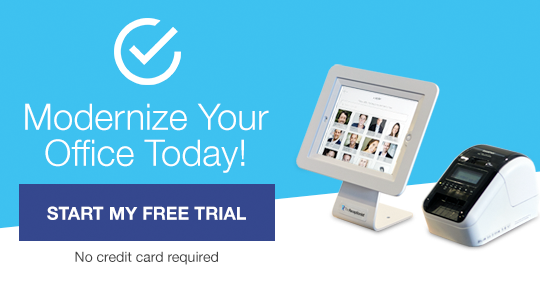 This need for privacy—along with the desire to improve office efficiency—is what led Michael Martensen to The iPad Receptionist. The firm faced three specific challenges:
Security.

As IP lawyers, Martensen IP works with confidential documents. They couldn't risk having visitors wander in and breach confidentiality by seeing them. In addition, lawyers from two different firms share their office space and they needed to keep their visitor records separate.

Efficiency.

The attorneys' offices are located in the back of the office, while the paralegals' offices are closer to the door. Because of this arrangement, the paralegals were frequently interrupted to acknowledge visitors, which was taking time and energy away from their legal work.

Visitor experience.

Four attorneys and two paralegals work out of the office, and each has a different specialization. When clients come in, they want fast access to the specific lawyer they're there to see.
Martensen considered hiring a full-time receptionist, but they didn't want to absorb the substantial overhead, especially since they have a modest number of daily visitors. So, they took to Google and researched potential solutions to fulfill their needs. They needed a more cost-effective solution, and The iPad Receptionist was it. Michael Martensen says, "It has worked tremendously well. When a client comes into the reception area, we immediately receive an alert that someone is waiting. Even when we know they're coming, this gives us the opportunity to put away any confidential documents. It also ensures our paralegals can focus on their paralegal work. I can't imagine not using it. I've even recommended it to my own clients." Security, efficiency, a streamlined visitor experience—these are our top priorities for choosing The iPad Receptionist. We're thrilled that we provide a cost-effective solution that helps our customers achieve all three.
About Martensen IP For over 20 years, the Martensen IP team has thoroughly examined and properly characterized intellectual property and patent portfolios into terms useful for business development and investment. They provide clients a full array of services within a broad suite of practice areas thereby maximizing the competitive advantage in the marketplace. This legal guidance includes drafting and implementing corporate IP policies, experience in domestic and foreign patenting, IP advice and counsel, due-diligence review for both purchasers and sellers, trademark, trade secret and copyright protection, and a host of other IP-related services. martensenip.com