When it comes to visitor experience, first impressions are everything. As soon as clients walk into your office, you want them to see who your company is and why they should want to work with you. In other words, your visitor experience can make—or break—your brand image. In a previous post, we touched on some ways technology can help build your brand image and optimize visitor experience. Here are more ideas about how to ensure that office visitors get a strong and lasting impression of your business, the second they walk in the door.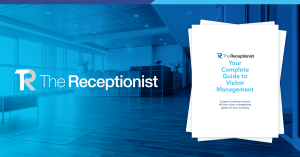 Incorporate your brand into your office space
Design expert Jacqueline Barr says portraying a brand in your office space is "paramount." She notes that branding can include everything from subtle colors and graphics to more dramatic strategies that encourage visitors and employees to engage with the space. Other designers suggest incorporating your logo into your reception area, or even installing video screens that display company advertisements. Using company colors can reinforce your brand, while also creating a unique feel for your welcome space. One note of caution: be careful not to overdo it. As Barr notes, "Some of the best branding can be … understated, elegant, and almost simple."
Communicate your company's personality
In many ways, brand image is just another term for company personality. A well-designed, unique reception area can tell visitors a lot about that personality. On the other hand, a generic office space tells visitors nothing about your company… except maybe that you lack inspiration and originality. Keep your desired brand image in mind when considering design elements like color, furnishings, and layout. What do you want people to think about your business when they come inside? That you're creative? Tech-savvy? Established? Trustworthy? Use those qualities as an anchor for your reception design. If you're looking for ideas, check out this collection of inspirational office receptions from Office Snapshots.
Cater to your audience
Every business wants to be seen as customer-focused. Guarantee your clients have a good experience when they visit by making sure your reception area is both comfortable and functional. Consider additional details to enhance your visitor experience even more. Technical elements like digital wall images and check-in tablets can make your space more welcoming. Well-selected reading material can both reinforce your company's personality and provide information that's of interest to your clients. You might consider other amenities, too, like charging stations, temporary workstations, or complimentary refreshments. Overall, anticipate your clients' needs and preferences. This will help establish your brand as one that cares.
Pay attention to the basics
It's crucial to think strategically about visitor experience. But it's also important to remember the everyday basics. The last thing you want is for visitors to leave your office with a negative impression because of an overlooked detail. It may go without saying, but a clean, organized reception area gives a much better impression than a cluttered mess. Make sure it's clear where visitors should check in so that they feel welcomed as soon as they walk through the door. And of course, friendly and efficient interactions with staff are always positive building blocks for brand image. So, look around your reception area. Does it convey a personality? Is that the personality you want associated with your brand? If not, you might be shooting yourself in the foot. Learn more about why your brand image matters.