At Simplemente, a systems integrator to the media and entertainment industry in Mexico City, establishing a personal connection with each visitor that walks through its doors has been a top priority in the nearly two decades the company has been in business.
The company is no stranger to using technology to enhance the visitor experience, having replaced it's pen-and-paper registration notebook for a basic iPad-based sign-in system in the early 2010s.
But when it's needs for an even more modern visitor check-in system grew beyond the capabilities of its originally adopted app, the Simplemente team went searching for a solution, and found The Receptionist for iPad in the process.
"We wanted a system that could be managed completely remotely, integrated with services like Slack and Mailchimp, and also could be branded and customized," said Noah Kadner, Simplemente's Marketing Director. "It took us a bit of trial and error but we ultimately found The Receptionist and it fulfilled our wishlist perfectly."
In tandem with a friendly receptionist at the front desk, Simplemente uses The Receptionist for iPad to register in-person visitors to its facility, print visitor badges, notify employees they have a visitor, and also sign visitors up to its mailing list, as the company has a variety of customer-facing divisions within the office, including camera rentals, technical support, and training.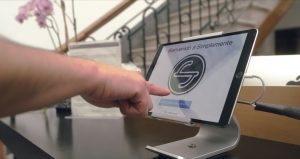 "The Receptionist makes it very easy for visitors to get to the person they need to get to in an organized and professional manner," Kadner said. "Having a good VMS (visitor management system) in place really makes a big difference to our efficiency. Business in Mexico is still done in a very face-to-face, interpersonal manner and The Receptionist helps make that activity as smooth and efficient as possible."
Kadner adds: "It also frees up our front receptionist for other key tasks versus having to jump on the phone every time someone visits the office. We love being able to administer and brand the system from the cloud and it makes on-boarding of new team members a breeze. We're very happy with The Receptionist and would recommend it highly."
Do you want to see how The Receptionist can help your organization? Sign up for a Sneak Peek webinar, or, start your free 14-day trial today.