Our latest feature updates for The Receptionist for iPad are all about analytics that give you even more information about who's coming to your office, who they're seeing, and what days are busiest for your team.
Visit Analytics by Day
It's now possible to look at hourly visit distribution numbers for a specific day, and see visitor analytics for a specific employee contact (i.e. someone your visitors would select to notify when they check in). No extra button pressing, switches to turn, or calls to make. These enhancements are already turned on in our customers' accounts.
Previously, when you clicked on the 'Analytics' button on your admin panel sidebar, you were able to see a breakdown of visit numbers by hour over a set of days — 7, 30, 90, or a full year. Now, you can click the new calendar button next to those sets to select a specific date and get a breakdown of just how people flowed through your office, say, on November 4.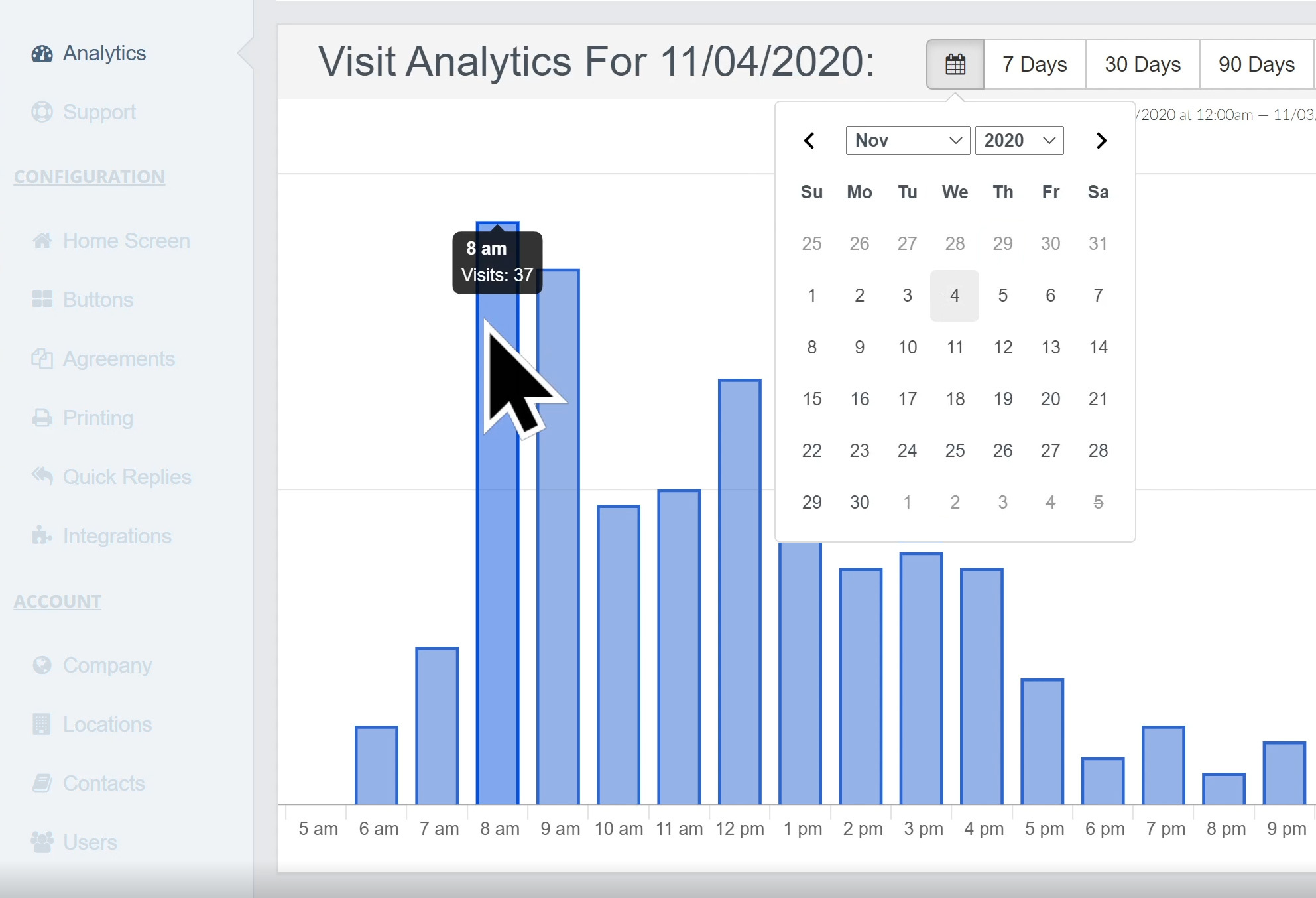 See Visitor Numbers by Employee Contacts
And that's not all. We're obsessed with giving you more data than you can shake a stick at, so it is now possible to get a look at visit numbers by contacts. Again, contacts are the people your visitors can check in to see.
Just go to your locations contact list, and choose "Analytics" from the dropdown in the 'Action' column to see just how many visits Tom over in Sales is receiving weekly, or on a certain date.
You may already be jumping for joy about access to all this extra info, but if you're still wondering how this new data adds value, here are some specific use cases from other customers who requested these new features.
So, What Do You Do With The Data?
Many workplaces use their visitor analytics to adjust staffing needs based on traffic volume through their doors. They could go into the analytics for the last 7 days and see that 10 am and 4 pm had the most check-ins on average, and make sure they had enough employees on hand to deal with the rush. But the morning rush on a Friday could look a lot different than Monday, so the ability to dive deep into specific days lets you get a much more well-rounded look at your visitor numbers and how they fluctuate outside of a specific time period.
The contact side of this feature release means you can get an even clearer picture of who is receiving visitors in your workplace. This update has a wide range of uses depending on how your location uses our employee contacts feature. If you're a behavioral health office where patients check in for different clinicians, you can see visit patterns for each provider, and use those patterns for scheduling appointments, or hiring new staff to fill busy periods. If you're a property manager who has visitors check in to separate offices and suites in the building, you can really dig into how busy your different tenants are.
More data equals more knowledge, and you can use that knowledge to make sure the visitor experience is as smooth as possible for your guests and your employees.
Read our updated support article on finding visit analytics in your own admin portal
Have Your Own Use Case or Questions? Reach Out!
The requests we heard for these additions to our analytics dashboard shows that there are a wide variety of ways you can use this info to bring some more stability to your workplace. If you're a current customer who is using the new by-day or by-contact data in an interesting or unique way, we'd love to hear it!
Or maybe you're still scratching your head on how to best use our new analytics features at your workplace. Either way, don't hesitate to get in touch with us as well! You can chat with us anytime using our live chat feature on the orange button at the bottom of our website, or your admin site. Whether you want to talk about analytics, new features, or just send us your favorite dog GIF, we'll be there.
If you're not yet a customer and curious about how all this data (and the rest of our nifty visitor management features) could help bring some stability to your workplace, start a free 14-day trial here and see for yourself – there's no credit card required!