Coworking space YOUBE opened its doors in Los Angeles in 2021 to provide a unique drop-in experience that allows members the flexibility to book working space by the hour.
Like any business launched or operating since March 2020, staff has faced an extra task: keeping employees and guests safe in the time of COVID-19.
YOUBE members use the company-made app to buy credits and book desk spots or meeting rooms. Once a user books a spot, the app generates a QR code for each user to scan into the space's front door and their chosen workspace. However, the app doesn't provide a way for members and their guests to report key health information like risk factors and vaccination status. Without that step in the check-in process, YOUBE was missing critical information that would help keep members safe. 
Jenny Berglund Castro, Co-CEO & Co-Founder of YOUBE, said that this gap was the primary reason they began researching digital check-in systems. 
"We knew it was an added system for customers to get into the space," Berglund Castro acknowledged. "But it was a necessary step to make sure people weren't sick when they came into the building."
The company wanted this new step to be unobtrusive and easy for its members to use. YOUBE considered multiple visitor management options based on word-of-mouth and online searches and ultimately found that The Receptionist for iPad had the best balance between price point and the features they were looking for in a visitor management system for their coworking space.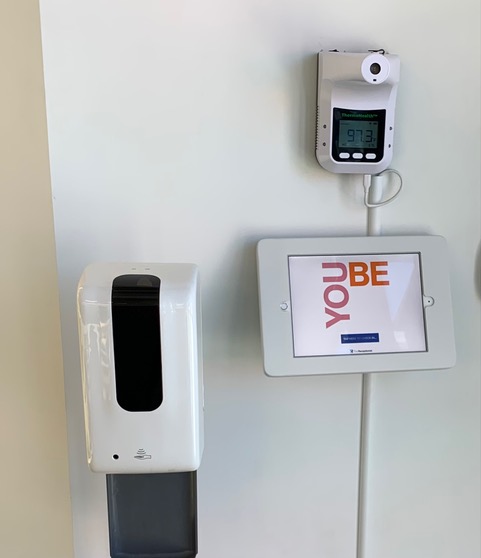 Helping keep members safe with the push of a button
Once visitors scan into YOUBE's front door using their unique QR code, they then use an iPad at the front entrance to check in with The Receptionist for iPad. After entering some basic information, guests are then asked to sign a COVID-19 agreement confirming their temperature (taken with a touchless thermometer at the entrance) and lack of common symptoms or risk factors. 
The Receptionist for iPad's intuitive agreements feature made it easy for YOUBE to add a custom COVID agreement to its check-in process. As confirming vaccination status became a key feature of workplace safety, introducing a second agreement that confirmed visitors' vaccination status was just as effortless. When compared with the experience of wanting to make changes to the company website and waiting days for those to go through, it was a breath of fresh air, according to Berglund Castro.
"The Receptionist helped us solve the problem by adding the new agreement easily," she said. "It was super flexible and intuitive."
Visitor information with unexpected insights 
Although YOUBE first implemented The Receptionist for iPad for a specific reason, the coworking space team has since discovered that the data the visitor management system collects is helpful beyond supporting workplace health and safety measures—including having a record of when guests check out, something the YOUBE app itself does not track. 
"Really, the reason we installed [The Receptionist] was COVID-19," Berglund Castro said. "But over time we've found the other perks. I like that it gives us a big picture view of who is in the space and when."
The Receptionist for iPad also asks for additional guest information beyond what YOUBE's app requires (just the member email), like full names, company names, and phone numbers. Having that extra knowledge about who is using the space, how often, and how YOUBE can further reach members, has been a significant benefit. 
Visitor management that grows with the business
YOUBE's second location is already slated to open its doors in the Larchmont Village neighborhood of Los Angeles. The Receptionist for iPad's convenient location management features made it easy for YOUBE to clone their check-in process—buttons, agreements, and all—across to the new location. The company will be able to use The Receptionist's flexible and intuitive reports to provide insights on foot traffic and usage times across locations that will help them successfully pursue their expansion plan and grow the number of flexible workspaces for members, all while keeping them safe. 
Think that The Receptionist for iPad might be a good fit for your coworking or office space? Take a quick 12-minute guided product tour and see how our software can help your business protect your employees and reduce front-desk stress. Join the next tour below!