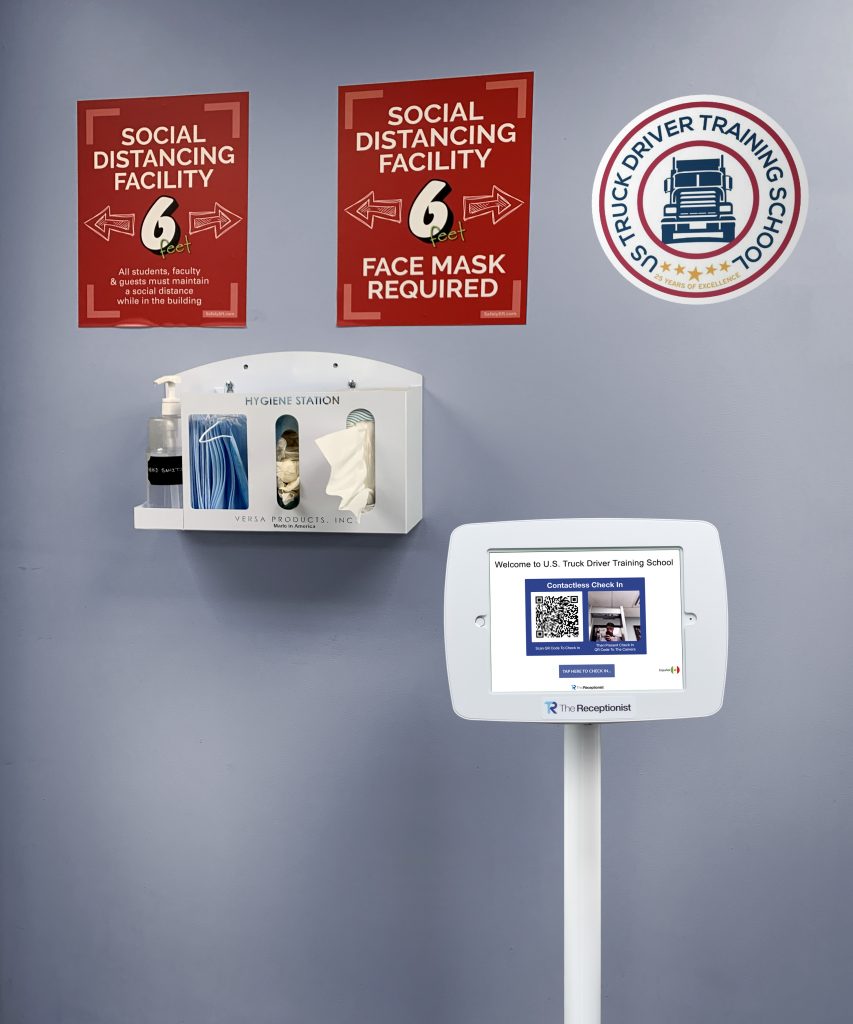 The COVID-19 pandemic has shone a new spotlight on the importance of the transportation and logistics industry.
With more people eating and working at home, well-stocked grocery store shelves and on-time package delivery have never been more imperative.
One of the businesses at the forefront of making sure those essential delivery vehicles are fully staffed is the U.S. Truck Driver Training School in Sterling Heights, Mich.
"We pride ourselves on our ability to help people gain a skill that helps them find gainful employment in the transportation industry," said USTDTS President and CEO Tyler LaBarge. "We're always doing our best to help companies keep their trucks filled and on the road."
COVID-19 creates need for heightened check-in processes
When the COVID-19 pandemic hit, LaBarge and the team at the USTDTS knew their mission of training students for a new career — whether it be operating a semi tractor-trailer, a box truck, or a passenger bus — was as important as ever.
They also realized like so many other businesses that remained open that they needed to make some changes to how they welcomed people through their doors.
"When COVID happened, we had to start looking at new ways to check people in and making sure people felt like they were safe," LaBarge said.
That's when Vice President and Director of Financial Aid Samka Keranovic started researching solutions and came across The Receptionist for iPad. Not only did The Receptionist for iPad have the features the USTDTS needed, but it also had the social proof.
"I started looking at all the reviews to see what people were saying about the system and if it would work," Keranovic said. "When I realized it would work for what we needed, I submitted it to Tyler."
In short order, The USTDTS implemented The Receptionist for iPad as part of its enhanced safety and security protocols.
Now, as a guest enters the facility, they ring a doorbell and show their ID. The front desk officer buzzes them through the door, an automated temperature scan is performed, and moves the visitor to The Receptionist kiosk where they can use their own personal mobile device to check-in for their visit without having to touch the iPad.
Once the visitor completes the log-in, the system notifies the appropriate admin rep, and the guest can grab a mask, gloves, or tissues, use some sanitizer, and proceed to their destination.
The Receptionist for iPad helps free up staff time as well
LaBarge said The Receptionist for iPad has delivered an efficient and straightforward way to continue checking in prospective students for the institution during the pandemic and has improved the quality of visit records, adding that the front desk officer's role has also changed for the better.
"We wanted her to feel like she could take a lunch break or use the restroom and didn't need to be at the beck and call of every person walking through the doors all day every day," LaBarge said. "They don't have to be 100% dedicated to traffic control. We can assign that person to be more of a support staff member than someone just answering phones and logging arrivals."
If you're looking to provide some stability to your office in these ever-evolving times, start a free trial of The Receptionist for iPad and see how we can help you stay safe now and in the future.
Additionally, learn more about our newest contactless check-in features by watching a live demo here.