At Hynes Industries, a custom fabricator of roll formed, strip and wire metal products, every day sees numerous visitors pass through the doors of its expansive Youngstown, Ohio, headquarters and Painesville, Ohio, manufacturing plant.
The company buys and processes literally tons of steel every day for use in everything from the trucking industry, the solar industry, industrial storage and shelving, and home improvement items. And each day, vendors, customers, deliveries, and potential hires visit the bustling facilities to conduct business.
Getting all of those people to the person they came to see used to be an enormous and time-consuming task, requiring large amounts of staff time and paper to ensure visitors were checked in properly and made it to their destination.
"Our plants are so large and spread out, there was no nice way to get ahold of people, even with a person sitting at the front," said Larry Pennington, Director of Information Technology. "Our people are so spread out throughout our facilities, and we've got people coming in for so many different reasons, that we were at a point where we needed a solution — we needed a more modern way to notify people that they had a visitor."
So the team at Hynes Industries searched and ultimately landed on The Receptionist for iPad.
The Receptionist for iPad's simple-yet-customizable approach to checking in all the various types of visitors and notifying the appropriate person of a guest's arrival was the deciding factor for the Hynes team.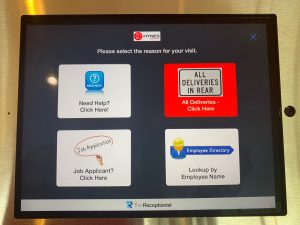 Different buttons for different visitor types
For instance, since deliveries are accepted at the back of each facility and not at the main entrances, the delivery check-in process is a simple notification to the person expecting a delivery, alerting them of inbound products, parts, and equipment.
At the front doors, vendors and customers arrive every day to meet with sales, supply chain, human resources, IT and administrative staff. After selecting the employee they came to see, visitors review and digitally sign an NDA and safety protocol documents — which used to be all paper — before their contact is notified of their check-in.
Finally, the company hires a lot of hourly workers, with many walking into the building daily to apply for jobs. As they sign in, an alert gets sent directly to HR staff.
"The ease of which people are alerted — especially that a customer has arrived — has helped us control access to the building and has made everything so much more streamlined and efficient," Pennington said. "Prior to installing The Receptionist, the process wasn't done quickly. It was usually someone's second or third job. Now, it happens on its own."
The implementation of The Receptionist for iPad has also come with another unintended benefit for Hynes Industries, Pennington said.
"A lot of our visitors, even some of our large customers, come in and check in and say, 'Wow, you guys are really high-tech.' We get that really frequently," Pennington said. "It's made us appear a little more technologically current and leading edge, and in our industry, that's pretty unique."
Do you want to see how The Receptionist can help your organization? Sign up for a Sneak Peek webinar, or, start your free 14-day trial today.