The Receptionist for iPad welcomes our newest feature designed to upgrade your visitor experience and ease anxiety at the front desk: visit assignment!
We built the assigned visits feature primarily for users in the credit union and banking industries, who receive a lot of guests in their lobby that need assistance from an employee but don't necessarily have a meeting scheduled. Our Assigned Visits feature helps those businesses record and queue visitors as they arrive (without making them stand in a physical line) and then allows employees to 'claim' visits from that queue to indicate they were on the way to help and that visitors were seen in the order in which they arrived.  This means no more frustrated guests unsure when they will be seen and no more confusion over which employee is helping who! The feature also records crucial data on visit claims in your visit log, including who claimed which individual visit and the time in between a guest checking in and their visit being claimed.
Here's how the assigned visits feature works: first, reach out to our team so that we can make the feature available on your Receptionist for iPad account. Once we've done that, you'll be able to select 'Assign Visits' in the 'Additional Options' section when editing any of your Notification buttons. Then, just turn that on for any check-in notification button where you would want to queue visits and have employees claim them!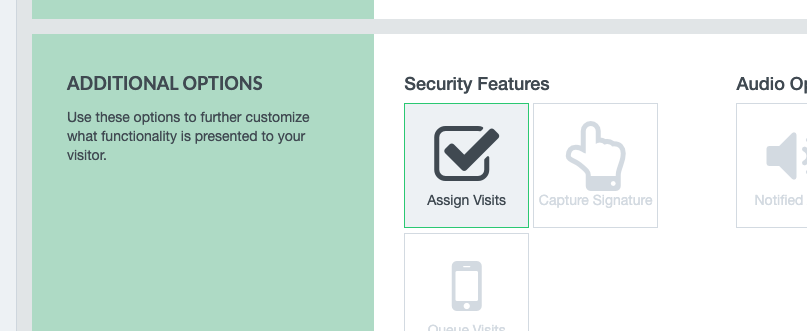 The usual visit notification (via email, Slack, or MS Teams) your team receives when a visitor uses a check-in button with the featured activated will now have a new "View Details and Claim Visit" button. After clicking through that link, that employee can go ahead and claim the visitor. Claiming a visit from the notification message doesn't require online user account access, but if a contact has User access, they can also claim a visitor directly from the visit log in your online account admin portal. Once the visit is claimed, the contact who claimed it will be listed in the Contact & Button column of the log as well as in any exported data about the visit. 
Heads up: Once someone on your team has claimed a visit, they cannot 'unclaim' it or pass it along to another contact. That specific visit will now be assigned to the contact who claimed it and will have that contact's information associated with them in your visit log. 
Because you control which of your employees is notified on individual check-in buttons, you can make sure alerts for any assigned visits buttons go only to the employees who would typically help out new guests — like sales or customer support. This feature is available on individual check-in buttons, so your business can have one check-in workflow for known or returning guests who might already know who they are there to see and another button for new visitors that will need someone to come grab them.
Beyond giving your team clarity on visitors that still need assistance and preventing confusion on who should be helping who, turning on the assigned visits feature provides valuable and exportable data on how your team is supporting customers. Beyond the number of visits claimed by each employee, The Receptionist for iPad also keeps track of when a visitor checks in and when their visit is assigned to an employee. This block of time helps you know just how long customers are waiting in your lobby for help. You'll have insight into certain days or time periods where that delay stretches beyond an acceptable limit and can adjust staffing decisions or procedures accordingly. The metric can also be a crucial data point for companies expected to maintain an SLA with their customers and ensure everyone gets help in a timely manner.
To learn more about assigning visits, how to activate the feature on your account, and how to use a visit assignment to trigger other events, head to our support article here. 
If you have questions about our newest feature or want us to activate it on your account, don't hesitate to reach out! You can find us anytime using our live chat feature from the orange button in the bottom-right of your admin portal. You can also send us an email at [email protected], or call us directly at 888-315-5230. Even if you're already dreaming of all the magic assigned visits could create at your front desk, we'd love to hear about your plans.