We're in unprecedented times. In response to the COVID-19 pandemic, most businesses around the country and the world were temporarily closed. In recent months, some businesses have started to reopen, first to employees and then to visitors.
With so many mandates and safety concerns, it can be difficult to know how to safely reopen your office to visitors. After all, your visitors are different from your employees.
For example, you can require both your employees and your customers/visitors to be vaccinated before entering your building. However this can become a thorny issue for many, especially for unvaccinated visitors who may opt to go to your competitor instead. In some states, it may be against the law to restrict access based on vaccination status.
For this reason and others, it's important to create guidelines for what you will and won't require of your visitors when you reopen to the public.
Let's discuss the best ways to safely and responsibly open your business again to visitors.
Review Your Local Guidelines
Before creating guidelines to safely reopen your business, look up the local and state laws for your area. Some states require that everyone wear masks, regardless of vaccination status. But other states leave it up to individual businesses to make those decisions. Act in accordance with your state's laws when deciding how to safely reopen to the public.
Update Your Website
Because visitors often check out a business' website before visiting, it's a good idea to keep your website as up-to-date as possible. Share news about how your office is handling COVID-19, and what the visitor can expect during their visit. Link to your COVID-19 news and updates page by creating a prominent banner or pop-up on your website's home page. This way, visitors won't miss it.
In addition to your website, you can also share frequent updates on social media and your email newsletters about the safety measures for preventing COVID-19.
Because visitors often check out a business' website before visiting, it's a good idea to keep your website as up-to-date as possible.
Click To Tweet
Make All Visits "Appointment Only" (If Possible)
While this tip won't apply to every business, if it's possible, consider switching to an "appointment only" schedule. By restricting access to your office, you have more control over who's in the lobby, when they're in the lobby, and for how long. And meeting at pre-arranged times can also improve your productivity and customer satisfaction.
Inform Visitors of Your Policy
After a visitor schedules an appointment in your office, set expectations with your confirmation message. Whether you're sending the confirmation over text, email, or phone call/voicemail, you can share pertinent information about your COVID-19 safety policies.
Encourage visitors who feel under the weather (even those with mild symptoms) to reschedule their appointments. And, if you require visitors to wear masks or provide proof of vaccination, let them know in their confirmation message. This will ensure that your visitor isn't blindsided when they arrive for an appointment at your office.
Screen Your Employees
One of the best ways to protect your visitors is by ensuring that your employees are healthy and safe to be around.
While you may not have the capacity to screen all visitors (especially if you have a lot of visitors and only a few employees), you can screen your employees regularly or have them screen themselves. Check their temperatures. Ask them how they feel healthwise. Encourage them to call in if they feel sick or have been exposed to someone who is sick. Implement weekly, bi-weekly, or monthly COVID-19 tests. Ask employees who've taken a vacation to submit to a COVID-19 test and also fill out a detailed health questionnaire.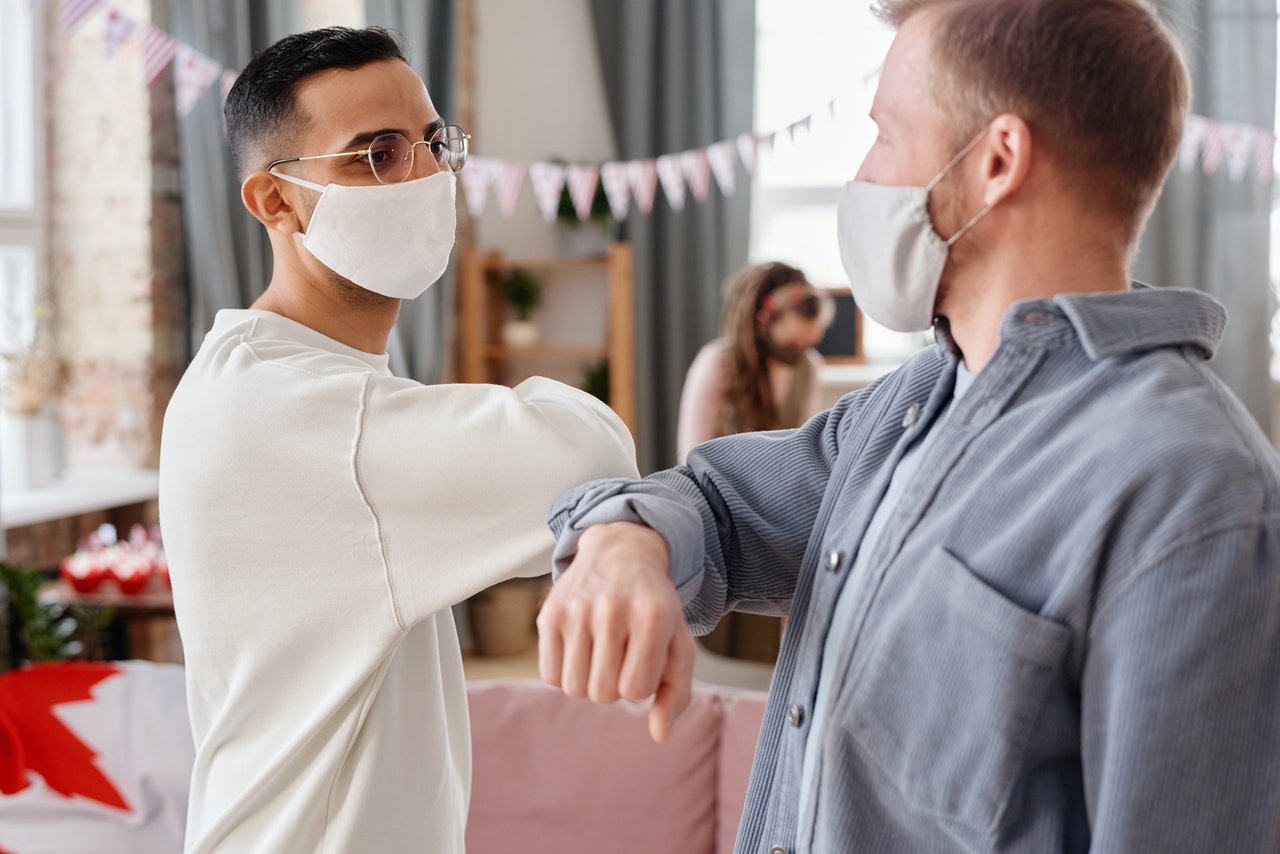 Reduce Your Visitor Capacity
Instead of allowing a large amount of visitors in your office, restrict access and only accept a quarter to half of the building's maximum capacity. By allowing fewer people in your building at the same time, you can implement social distancing measures to better protect your visitors and your staff.
Space Out Your Seating
In your lobby, get creative with your seating. If you limit the amount of visitors in your office, you won't need as many seats in your lobby. This means you can also spread out your chairs so that your visitors aren't close to each other.
Space Out Appointments
In addition to spacing out your seating, also space out your appointments. Consider staggering appointments so that fewer visitors are waiting together in the same lobby.
Offer Masks
While this can change at any time, current federal guidelines support that everyone wear masks indoors, including those who've received vaccinations. However, different states have different laws. You may or may not be able to require masks (check with your local and state laws to be sure), but you can always offer masks, if the budget allows. Also, set up signs that inform visitors of your mask policy.
Ask Visitors to Sanitize Their Hands
In addition to masks, you can also ask visitors to wash or sanitize their hands upon arrival. Set up a sanitation station to welcome visitors and encourage health safety.
Consider Temperature Checks
Depending on how your visitors will be interacting with your staff, make temperature checks a mandatory part of your check-in procedure. If you're short on staff, temperature checks can be done with the help of a hands-free screening machine.
Enable Contactless Check-In
Keep your visitors safe by offering a contactless check-in. Using The Receptionist for iPad, you can completely manage your visitor's experience while limiting contact between visitors and staff. Our visitor management software allows visitors to check-in securely and without even needing to contact public surfaces. Our contactless check-in feature allows visitors to check-in by using their smartphone. Visitors simply scan a QR code on their phone to complete the check-in.
Learn more about our contactless check-in feature here.
Additionally, The Receptionist for iPad enables contact tracing. By using our system, you have detailed visitor records saved in the cloud. This way, in the case of COVID-19 exposure, you can refer to your visitor records to see who may have been exposed, and contact them accordingly.
Install Glass or Plastic Screens
To protect your front office staff and visitors, set up glass or plastic screens at your reception desk. This provides a germ barrier which can act as a second layer of protection (in addition to wearing masks).
Improve Your Indoor Ventilation
In addition to glass barriers, take steps to ventilate your public spaces. Simple actions, like opening windows and doors (especially if you're experiencing mild weather) can improve air circulation in your space.
Regularly Clean and Disinfect Public Places
Be sure to regularly disinfect every public area in your office. This includes your lobby, waiting area, and bathroom. Also, clean frequently used or handled equipment and furniture, such as desks, telephones, keyboards, doors, door handles, tables, and chairs.
Decide How Visitors Will Walk Through Your Facility
In an effort to limit face-to-face contact, consider setting up one-way aisles in your office. This way, visitors are routed through your office on a marked path and won't face each other.
Encourage Social Distancing
Social distancing is still a great way to prevent the spread of infectious disease. If you anticipate that your visitors will line up in any way in your office, ensure that they follow social distancing. An easy way to do that is to put stickers on the floor which will show your visitors where to stand.
Final Thoughts
Because laws and regulations vary (and are constantly changing), reopening your business to visitors can be confusing. However, by implementing the above tips, you will be taking the necessary steps to safely welcome and manage your visitors.