Your iPad is already your favorite movie theater, cookbook, and gaming console. But that's just the start of what it's capable of. Download an app and your iPad can turn into anything from a fish tank to a receptionist. Here are 13 things you didn't know your iPad could become.
Install a visitor management system like The Receptionist for iPad and voila! Your iPad becomes your receptionist. It sits in your office lobby, greets and logs visitors, tracks package delivery, and even prints ID badges. The system is fully customizable for two-way SMS or email-based communication with everyone in your office, so no single person has to be tied to the phone or reception desk all day. 
The receptionist is loved by companies like ADP, Yahoo!, and HomeFinder.com.
"Before choosing The Receptionist we tried 3 other major visitor management software systems… The Receptionist was by far the easiest to set up. The visitor sign in/sign out and host notification processes are both intuitive and reliable."
-Derek Corneliusen Facilities Manager TDK-Lambda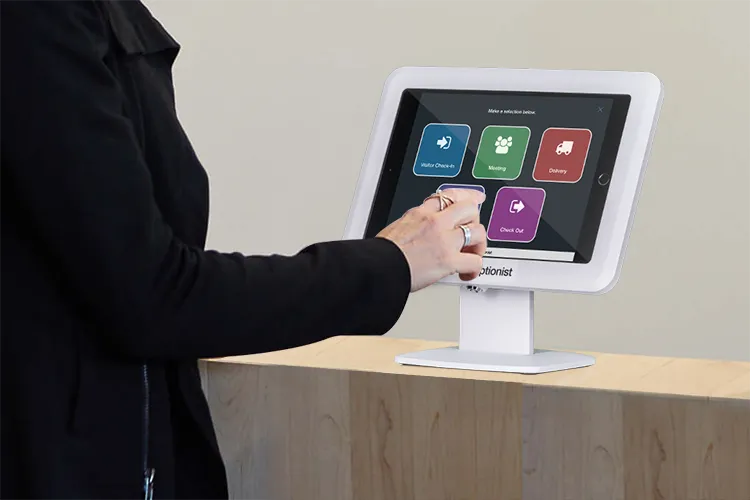 2. A Dictaphone
With your receptionist gone, you might need someone to take dictation. iPad to the rescue! Dragon Dictation is a speech recognition app that cuts down on typing time and can instantly save your brainstorming sessions in print. Transcription is also a snap.
3. A Jukebox
Hungry for nostalgia? Turn your iPad into a jukebox with the Diner Jukebox app. It even requires a virtual quarter before offering song options! For more contemporary takes, try TuneDrop or Jukebox Air, which allow all listeners to choose their favorites or vote on an upcoming song.
4. A Point-of-Sale
Cash register? What's that? More and more businesses — from food trucks to nail salons — are using iPads as POS systems to allow them more flexibility and scalability in how they process transactions. Apps like Square Register, Shopkeep and PayPal Here also make great mobile registers for trade shows.
5. A Voting Booth
With traditional ballot boxes, it takes a long time to learn the results. Not so with your iPad! Voting apps provide instant feedback on polls and surveys, which can make audience engagement skyrocket. Some apps like Show of Hands provide Election 2016 functionality for keeping pace with the population at large. Visual Voting uses color to show speakers on a stage immediately how an audience feels, then collates and broadcasts accurate data to the big screen in vivid infographics.
6. An Old-School Notebook
Tired of the same old fonts? Apps like Notability allow you to take notes and make annotations in natural handwriting. Most offer choices of pen styles, backgrounds, and highlighter colors. Writing your notes directly on an online document is more efficient than using a separate word-processing application. Plus, sometimes it just feels good to put pen (or finger, or stylus) to paper.
7. A Fax Machine
There are plenty of reasons why the fax still lives (and plenty of people who want it dead). For example, in many industries, regulatory compliance still requires a paper trail. For on-the-go or occasional sending, signing, and receiving of faxes, the Fax Burner or eFax apps can significantly lighten your load.
8. A Scrolling Marquee
Add a glamorous touch to your waiting room or your next airport pickup. When your iPad becomes a scrolling marquee, you can customize messages, updates, and reminders anywhere, for anyone. Go simple with Scroll 'n Roll, or relive your Lite Brite years with Best Banner.
9. A Fish Tank
Fish tanks are awesome additions to an office, but who wants to clean them? For the beauty of a fish tank without the upkeep, turn your iPad into a beautiful aquarium! The endlessly fascinating audio and visual sensations of an aquarium app can add a sense of grace and peace any environment.
10. A Visitor Log Book
Tired of using pen and paper to check in visitors to your office? Upgrade that boring ol' front desk into a sleek and modern visitor experience with The Receptionist's iPad app. You won't need to hold on to that stack of visitor logs anymore!
11. A Meditation Guide
With mindfulness getting more attention in the workplace, why not focus your iPad's energies more fully in the present moment? A Healthline roundup of the year's best meditation apps offers relaxing audio and visual escapes, extensive libraries of guided meditations, and geographical connection to community mind and body resources wherever you are.
12. A Fireplace
At the end of the day, there's nothing more relaxing than a warm hearth. A Very Cozy Fireplace and a host of other crackling apps can turn your iPad into a tranquil focal point. Lend a soft glow to a workspace or urban camping trip, or use it in a spontaneous rendition of "Kumbaya" on your next staff retreat.
13. An OSHA Emergency Evacuation List
Did you know that OSHA requires certain businesses to keep track of their visitors in case of an emergency? Luckily, this electronic receptionist ensures OSHA compliance. In case of an emergency, simply check the visitor log from any internet-enabled device to account for everyone.
Think Your Office Could Use a Receptionist? Start Your Free 14-Day Trial!