When most of us hear the term "curbside appeal," we think about sprucing up homes for potential buyers.
But a great first impression from the street isn't just a perk for residential properties.
Businesses both large and small can benefit in big ways from paying attention to the impression a space makes on people passing by on the sidewalk, driving by on the street, or pulling into the parking lot.
We've written a fair amount about office interior design. That's still important, but less important than it used to be before the pandemic. These days, people aren't meeting indoors too often, but they may still make a judgement about your business based on where it's located and what it looks like from the outside.
Regardless of whether they eventually come indoors or not, your office's curbside appeal is a good way to impress potential customers, partners, and employees. With that in mind, here are a few ways to boost your office's curbside appeal.
Update The Exterior
It's hard to argue that a fresh coat of paint and an update of exterior fixtures won't make a significant difference in the way a building looks. Fresh colors and textures can be pleasant for employees, but can also show the surrounding community that your building is modern and cared for.
If you want to attract even more attention to your business, why not consider commissioning a mural? You can look into hiring a local artist or work with a nonprofit dedicated to helping young artists. People may come to your neighborhood or street specifically to see the mural and linger when they might not have otherwise. Plus, a mural can be an easy, fun, and beautiful way to send a message about your brand.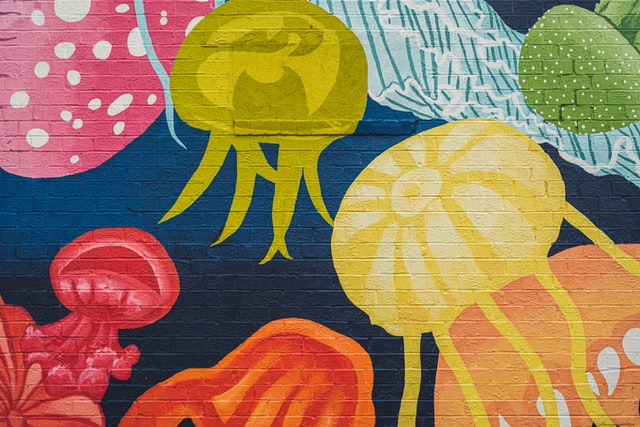 Pay Attention to the Entryway Path
Designating the most helpful ways to get to your office and making sure that they stay clean and well-maintained can make a difference in the aesthetics of your exterior office.
Are there routes that lead up to your office doors that need attention? Perhaps employees and visitors are wearing a path in the grass where there's no pavement, for example, or the sidewalk could use repairs.
The entryway of your office can also benefit from aesthetic improvements.
For example, a smaller building or one with a more casual brand might benefit from some of the same things that a home would, such as a wreath on the door or a bright welcome mat. A more corporate office building with large automatic doors and an expansive lobby can still brighten up the entryway with things like eye-catching planters and more formal decor.
Regardless of your brand, remember to also keep security in mind when upgrading up your entryway. As we wrote in our post about Physical Security Basics for Software Companies, best practices include things like maintaining a clear line of sight while also making it difficult for people to run in and out in a hurry.
Invest in Better Signage
It's hard to go wrong with investing in better outdoor signage.
Better signs make it easier for passersby to recognize your business from the street. This can have important safety perks, because it can help emergency responders find your business more easily in the case of an emergency. Potential customers and employees will also have an easier time finding your business, which can be a really important first step in introducing your company.
But in general, if people can pass by without being able to recognize your company's name and what it offers, you're missing out on a valuable marketing opportunity.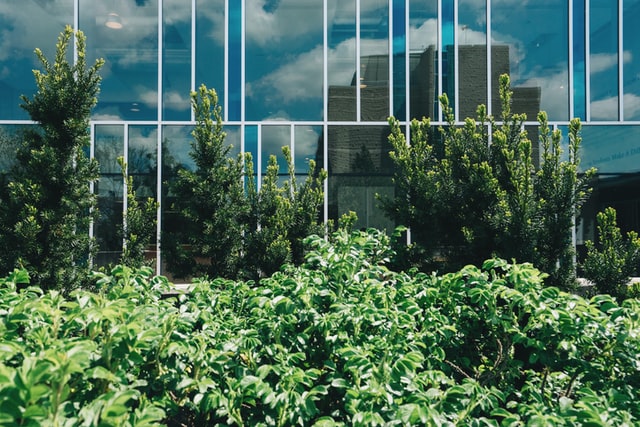 Improve the Landscaping
Well-placed trees, shrubs, grasses, and flowers can make a huge difference in the way your business looks from the street. Plus, employees will enjoy the warmth and visual interest that these plants bring to their work environment.
If you're not already working with a company to maintain your building's grounds, seek out a professional who can recommend a combination of plants that will thrive in the environment you have available.
Keep in mind that container or planter "gardens" can also be an option for businesses with a lack of unpaved space.
Improve the Parking Lot Design
If your office has its own parking lot, take a closer look and consider the impression it makes on visitors and passersby.
It may be time for a new coat of paint, a new layer of pavement, or better signs indicating parking rules.
If you can, consider adding landscaping elements to the parking area. In particular, planting trees near or within the parking lot can make it cooler in the summer and help reduce stormwater runoff — not to mention being a great way to show your company's eco-friendly values.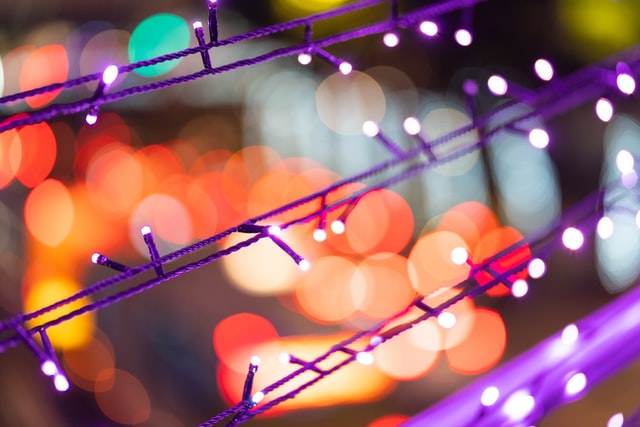 Add Seasonal Interest
You don't have to be Martha Stewart to incorporate a bit of exterior office decor to reflect the current season or holiday.
Smaller companies may find that a few strands of lights on their office building go a long way toward adding holiday charm in darker and colder months, for example. Larger companies may take advantage of a seasonal decor service that specializes in this kind of work.
A lot of seasonal interest can also be accomplished with the right kind of landscaping, too. Ask your landscaper for a design that showcases attractive blooms or colors in each season of the year.
It may help to assign the job of seasonal decor for both the interior and exterior of the office to a certain employee or a certain role, both so that it actually happens and so that someone gets credit for the work.
For more on how to recognize the kind of hidden labor that makes office life more comfortable, check out our post No More "Office Mom," How Your Company Should Delegate the Tasks that Make Office Life Comfortable.
The Importance of the Visitor Experience
Again, people might not be meeting in-person very often, but smart company leaders will still design their offices in a way that impresses anyone who does come in.
A visitor's experience starts with their impression of the building's exterior and continues with their impression of the lobby and overall experience checking in.
Smart company leaders design their offices to impress anyone who comes in.
Click To Tweet
For more on making visitors' check-in experiences more pleasant, check out our Comprehensive Daily Visitor Management Checklist.