Administrative professionals take on a variety of roles, from serving as the office receptionist to personally assisting executives to managing office supplies and maintenance.
In many cases, they take on a combination of roles and juggle them throughout the day as the need arises.
When administrative professionals can leverage the power of technology, they can make their jobs much easier. A growing number of apps can help them out and save them time in surprising ways, which can leave them more energy for their most important work.
Here are six interesting app features you may not have heard of that make office administration and personal assistance easier and more pleasant.
Chat about upcoming events directly in a shared calendar
If you're a personal assistant or assist a team of executives, you might find yourself emailing back and forth with various colleagues about whether they have what they need to be ready for a certain event. Maybe you have to send them documents or itineraries for meetings or appointments.
Have you considered how helpful it might be to store relevant documents and have those discussions directly in a shared calendar?
The TimeTree app does just that. As its website says: "Each event you create has its own chat room. Comments and images can be sent. Ideas discussed. Plans locked in and memories recorded and preserved for you to enjoy in the future."
Request to track your colleagues' locations in real-time
If you're in charge of managing executives' schedules and making sure they're on time for their appointments, it might save you some stress to try a location tracking app like Glympse.
This free app allows you to share your real-time location and estimated arrival time using GPS tracking. That way, administrative assistants can let people who are waiting for their appointment host to arrive exactly when they're expected and can help make them comfortable as they wait.
This app could be especially helpful for managing the schedules of particularly busy executives, or those who tend to run late since their time is in high demand.
The tracking is temporary, so there won't be any inadvertent invasions of privacy. Instead of texting a colleague who is running late for a meeting and repeatedly asking for ETAs, you can simply request a Glympse link.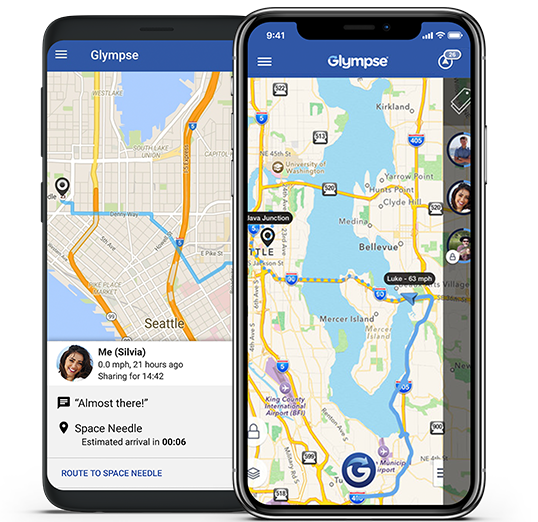 Choose appointment times by sending a link
It can be surprisingly time-consuming to settle on appointment times, especially if you're trying to schedule them for more than one person.
We've written about best practices for meeting scheduling in our post Best Practices for Efficient Meetings. Workplace leaders can save their team a lot of scheduling headaches by keeping meetings on a regular schedule at times that don't tend to interrupt their employees' workflow.
However, there will always be instances where impromptu meetings are necessary.
In those cases, skip the back-and-forth with an app like Calendly or Doodle. Calendly lets the organizer input their availability, and invited participants select their ideal meeting times. Doodle can scan for ideal times using people's calendars, or use a poll feature to ask participants about which times they'd prefer to meet.
These features make the meeting scheduling process much clearer and easier for everyone involved. These apps can also automatically convert time zones to eliminate timing confusion.
Take meeting notes quickly and digitally
If you're taking meeting notes the old-fashioned way, it's time for a few upgrades.
Note-taking apps like AudioNote 2 can easily integrate hand-written drawings and audio recordings into your meeting notes. So, you can use a keypad to take notes manually and integrate drawings for figures or other conceptual ideas. But even if you're used to pen and paper, you can still have a handy digital file to share with colleagues afterwards (no need to re-type your handwritten notes).
Audio recordings are helpful when you're trying to keep track of who said what during spirited conversations. You can even use a transcription tool like Happy Scribe or Otter to create the meeting notes automatically from an audio file. Of course, you'll have to go over the transcribed notes for accuracy, but it can still save hours and hours of work.
Create trip itineraries with a click
If your administrator is in charge of helping executives plan their business travel or keeping track of reimbursing employees' travel-related expenses, there's potential to save lots of time wading through receipts.
Apps like Tripit and TripCase can create master trip itineraries that include transportation details, lodging information, and activities, all from the forwarded confirmation emails of your reservations.
Other travel software, such as Expensify and TripActions, incentivize employees in various ways to save money as they book their travel, such as gift cards or a percentage of cash back for money saved for the company by booking anything for under the average cost. That kind of program takes the pressure off of the travel planner to hunt around for the plans with the best prices and lets the employee have more discretion on choosing what they like.
TripActions, in particular, makes things easy by personalizing travel suggestions based on factors like the traveler's past choices and their loyalty programs.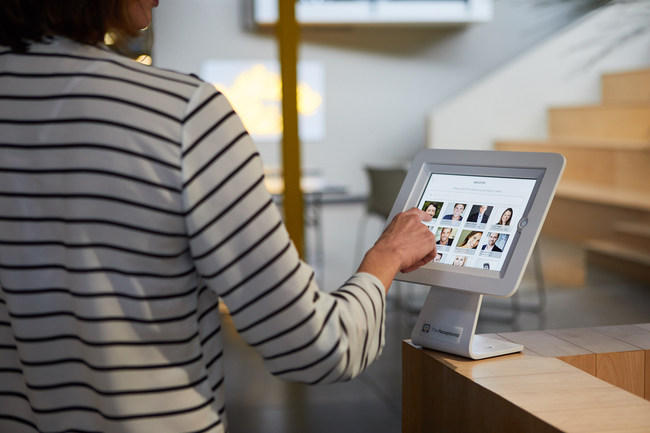 Let visitors check themselves in
Front desk administrators often play a crucial role in the office by greeting office visitors, checking them in, and even serving as the organization's first line of defense when it comes to security efforts.
Visitor check-in apps like The Receptionist for iPad guide visitors through an automated check-in process and even connect them directly to the person they came to visit — all through a touchscreen tablet.
The best apps on the market even allow for contactless check-in. Visitors can check-in with their smartphones without the need to touch a shared tablet or clipboard or even come within six feet of the receptionist in the lobby. This can make everyone feel safer and more comfortable in the COVID-19 era.
Allowing office visitors to check themselves in can eliminate tedious data transcription work for your front desk staff.
Click To Tweet
Allowing visitors to check themselves in can eliminate tedious data transcription work, and can even make it easier for receptionists to move throughout the office during the day instead of staying tethered to their desks.
Although a visitor sign-in app is not a replacement for the human element in the lobby, visitors who can check themselves in won't have to wait around for the receptionist to return from a bathroom break in the case that they arrive at an inconvenient time.
If you're interested in trying a visitor management app at your office, check out the reviews for The Receptionist. And if you'd like to try The Receptionist, check out our features or request a custom demo.