Successful businesses are always on the lookout for current and future trends in technology. Read on for five ways technology is transforming today's offices.
Flexible work practices
Studies show that employees are more satisfied and effective when they get to decide when, where, and how they work. Telecommuters and off-site freelancers are becoming ever more common, and people increasingly want to be able to work wherever they choose. Technology is the fuel that enables these trends to grow. Mobile devices, the cloud, collaborative software, and other advances allow for greater flexibility outside of the physical office space. (And inside it, too.)
A new concept of teamwork
Technology lets teams interact in new ways. The days of being limited by face-to-face meetings and impersonal conference calls are long over. Today's teams can work remotely, asynchronously, and across wide distances. They can use apps like Slack for file-sharing, real-time interaction, and communication management, to make collaboration as seamless as possible.
Efficiency through automation
Technology allows for the automation and streamlining of many operational processes and day-to-day tasks. While these changes certainly require adjustments, automation improves overall business efficiency. And at the individual level, automation can give workers the time to focus on other, more creative and thoughtful aspects of their jobs.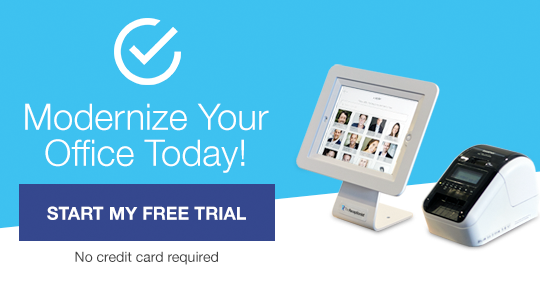 Work-related apps
Also at the individual level, work-related apps can help employees make the most of their time to get more done. For some examples of apps across the "work span," browse Business Insider's recent list of 27 best apps for doing your job. Also check out some ways to motivate your employees using productivity and time-management apps.
Technology-inspired spaces
Many companies are using technology in inspiring and innovative ways at their office spaces. Knoll suggests that technology networks can be used to understand individual preferences and encourage social networking in the workplace. Going even further, Forbes reports that Cisco is working on a system by which its workspaces could automatically adapt to the preferences of individual employees. While strategies like these may seem like something out of a sci-fi movie at the moment, they just might be the wave of the future. Is your office ready for a technology transformation? Learn how The iPad Receptionist can help.