You may have heard the term "visitor management" lately and assumed it's not an initiative that deserves attention at your office.
However, we've found that whether or not your office can benefit from a visitor management system depends a lot on what you think "visitor management" actually means.
Some people assume that visitor management initiatives are only for big businesses, or only for businesses with serious security or compliance concerns. Others assume that a visitor management system requires a big investment in energy or money, which small businesses can't afford.
We thought we'd take some time to clear up misconceptions about visitor management. Here they are, in no particular order:
Misconception: Visitor management is only about security
Some bigger office buildings — or buildings with multiple tenants — have a security team in place in the reception area. Sometimes, the security guard is the only person in the reception area, and the security guard is in charge of some reception duties, too.
Perhaps that's why some people think that the term "visitor management" is interchangeable with "office security."
Indeed, many threats to office security do come from visitors. (For more on those threats and preventing them, check out this post: Improve Lobby Security By Watching for These Suspicious Behaviors). And a good visitor management system helps your security team manage threats by keeping records of who has been on site, making sure visitors don't pass through the lobby without the right credentials, and making it much easier for employees to identify credentialed visitors when they're in the building.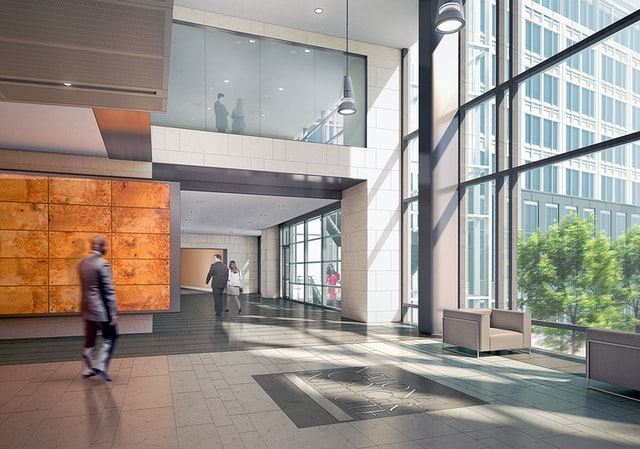 However, a visitor management plan has many other benefits outside of security alone.
One of the biggest perks of a visitor management system is the chance to make a better impression on visitors. When you pay attention to how visitors check in and create official protocols and procedures for the process, you can make sure that the visitor check-in experience is pleasant, streamlined, and on-brand — no matter who is working the front desk.
There are also administrative benefits to paying attention to visitor management. You'll be able to keep cleaner and more reliable records. Better visitor records can, in turn, ensure compliance with privacy and security regulations, and help you make better choices about lobby staffing and design.
Misconception: Upgrading the check-in system is a luxury
If you work at a small business that has always kept a manual sign-in log, upgrading your system to a digital one may seem like a nice-to-have instead of a must-have.
But there are an increasing number of downsides to using an old-fashioned check-in system.
First of all, the coronavirus pandemic has made us more wary of picking up a pen and clipboard that office visitors and staff have also been handling. Modern apps, our own included, have made it possible for visitors to check in with their own smartphones with no need to touch office equipment or get within six feet of the reception staff.
Plus, as more businesses make the leap to invest in modern check-in apps, sticking with a pen-and-paper system is going to look and feel increasingly anachronistic to visitors and fail to make a good impression on potential hires, customers, and partners.
Perhaps most importantly, though, digital check-in apps pay off in important ways that make them a smart financial investment.
Because visitors can use a digital visitor management system at a kiosk without a receptionist present (the software takes them through the check-in steps), the desk is always covered, even when the receptionist isn't sitting in the lobby. That means visitors won't wander into the office looking for help and interrupt your other employees (which hurts productivity). Your front office staff will also be more productive thanks to the technology, so they'll be able to use their time in more profitable ways (not to mention take breaks without having to rush back, which can increase job satisfaction).
Related post: Let the Front Desk Staff Handle These Tasks
Visitors who haven't checked in can also present a safety risk in facilities such as labs or factories, so a digital check-in system could potentially help prevent scary and expensive accidents. Similarly, a digital check-in app's always-updated, remotely accessible evacuation list could be a literal lifesaver in the terrible prospect of a structure fire or other hazardous event at your facility.
Although modern visitor management software is impressive, it requires relatively little in the way of setup time or training, and in most cases requires only a small monthly cost that makes the ROI on a visitor management system even more impressive.
Misconception: Electronic check-in resources create new security threats
It's true that any internet-connected device has the potential to be hacked, and any third-party software comes with its own risk of breaches and vulnerabilities.
For those reasons, some office managers hesitate to add yet another program to their technology stack.
However, keeping your data on a local server doesn't make it immune from the cyber attacks that affect cloud-based servers. In fact, these local servers could be even more likely to be targeted by hackers, who know that small businesses can't employ the same security measures that big businesses can.
As we wrote in our post 5 Workplace Data Privacy Myths Debunked, paper visitor records are at risk from other threats, such as theft, accidents, or damage. Paper files easily get misplaced (there's no keyword search for a missing paper file) or ruined with something as simple as a cup of coffee. You also can't password-protect paper files, which can also be accidentally left in plain view to be potentially seen or copied by office visitors.
SaaS programs come with levels of security that small businesses can't afford on their own. By essentially "sharing" the costs of advanced security methods with other clients, you can leverage the power of much stronger security tools.
SaaS programs come with levels of security that small businesses can't afford on their own.
Click To Tweet
Are You Ready to Try The Receptionist for iPad?
Now that you're aware of the myths, are you ready to make moves to upgrade your visitor management system?
We hope you reach out to us and try The Receptionist for iPad: The Original Visitor Management System. We make it super easy for new users to get set up with packages that include an iPad and your choice of wall mount, desk stand, or floor stand. Plus, our Radical Support® team will be on hand to help with anything you need.
You can try the full system for two weeks in our no-obligation trial. Just head over to our home page and submit your email address to get started. Or, get in touch to arrange a custom demo so we can show you exactly how the program would work for your office.