Improving workplace safety should be a top priority for every organization. Not only will implementing a safety program prevent injuries and even fatalities, but it will also impact productivity, boost employee morale, and reduce the costs associated with workplace injuries and illnesses. According to this study on workplace safety published by the Occupational Safety and Health Administration (OSHA), businesses with safety and inspection programs have saved 26% on workers' compensation costs on average.
COVID has also changed the way that we approach health and safety in the workplace. As an organization, it's your responsibility to reasonably protect your employees from accidents or recognized hazards. This also includes protecting against infectious diseases.
Investing in workplace safety is just good business. But how do you do it effectively?
In this post, we'll discuss how to implement simple safety practices in your workplace.
1. Train Your Employees
Create a safety program, but don't just leave it there. Don't just hand out manuals and expect your employees to read through and understand them. Once you create a safety program, it's important to create a training program to go along with it. Schedule multiple training sessions throughout the year where you go through your safety manual, answer questions, and discuss best practices.
Learn more about building a safety training program from scratch here.
2. Commit to Cleanliness
From tripping to slipping, a messy workplace can often lead to accidents. And these accidents are 100% avoidable by simply tidying up and organizing all areas in your workplace. Be sure to reduce clutter as much as possible. Untangle cords, clear walkways of potential tripping hazards, and ensure that items aren't stacked in a way that can easily topple over on an unsuspecting passerby.
Accidents often happen when employees are overworked and overtired. Instead of praising employees who work non-stop, encourage all of your employees to take two regular breaks during their workday (in addition to a 30 minute lunch…
Click To Tweet
3. Encourage Breaktime
Certain states such as California, Colorado, and Nevada actually require mandatory rest breaks. Be sure to check your state's labor laws to ensure that you're complying with the law. However, it's always a good idea to implement breaks into an eight-hour workday. Accidents often happen when employees are overworked and overtired. Instead of praising employees who work non-stop, encourage all of your employees to take two regular breaks during their workday (in addition to a 30-minute lunch break). This will ensure that employees get a chance to stretch, relax, and come back to work refreshed.
4. Keep a Safety Scoreboard
One way to track workplace safety is with a scoreboard. This is a sign that allows you to document how many days you've gone without an accident. You can also document your previous record. There are several benefits to keeping a safety scoreboard. It's a public display that informs and motivates your employees to stay safe.
5. Reward Your Safety Amongst Your Employees
Move over employee of the month. It's time to celebrate all of your employees for being safe. You can incentivize adherence to your safety program by offering rewards, such as extra time off, when safety milestones are met. For example, set a goal for how many days you want your workplace to be accident-free. Once they meet that goal, then celebrate your team for a job well done.
6. Make It Easy to Report
If it's difficult for employees to report potential and actual hazards in the workplace, they simply won't do it. No one wants to be designated as the squeaky wheel. So, while that employee may avoid a potential hazard, their lack of notification may cause another employee to get hurt. You can avoid this by creating a reporting system. Appoint a member of your team as the safety supervisor. Make this person responsible for receiving reports and ensuring that hazards are addressed in a timely manner. Giving one person the responsibility reduces confusion and eliminates the back and forth nature of reporting to multiple people.
7. Set Up a Safety Website
As part of your intranet (which is your organization's private and secure internal website), you can create a safety section. Consider this section as a digital safety manual. You can include your official safety policy along with tips, training videos, tutorials, and resources. You can also tackle frequently asked questions in this section of your intranet. All of this information can be used by employees to identify and mitigate risks.
8. Keep a Clean and Sanitized Workplace
To protect against communicable infectious diseases, make sure that your workplace is clean. This is a simple way to prevent the spread of serious diseases like COVID-19. Protecting against this virus can also protect against other infections, such as the common cold and the flu. Here are a few ways to keep your workplace hygienic:
Clean common surfaces, such as desks, tables, keyboards, and phones, with disinfectant at regular intervals throughout the workday
Ensure that hand sanitizer is highly visible and readily accessible by all in the workplace, including employees, clients, and contractors
Provide disposable face masks to clients (or require your employees to wear them)
Encourage your employees to wash their hands with soap and water
9. Post Safety Signs
Safety signs pose as constant visual reminders for all of your employees. And, they've been proven to reduce workplace accidents by calling attention to hazards. Safety signs come in all shapes and sizes, and can be used for a variety of purposes, including:
Fire and First Aid (i.e. a sign that indicates where a fire extinguisher is located)
Prohibition (i.e. a sign that prevents unauthorized access into a specific area)
Hazard (i.e. a sign that identifies proven or potential hazards, such as a fall risk)
Mandatory (i.e. a sign that requires employees to wear hard hats)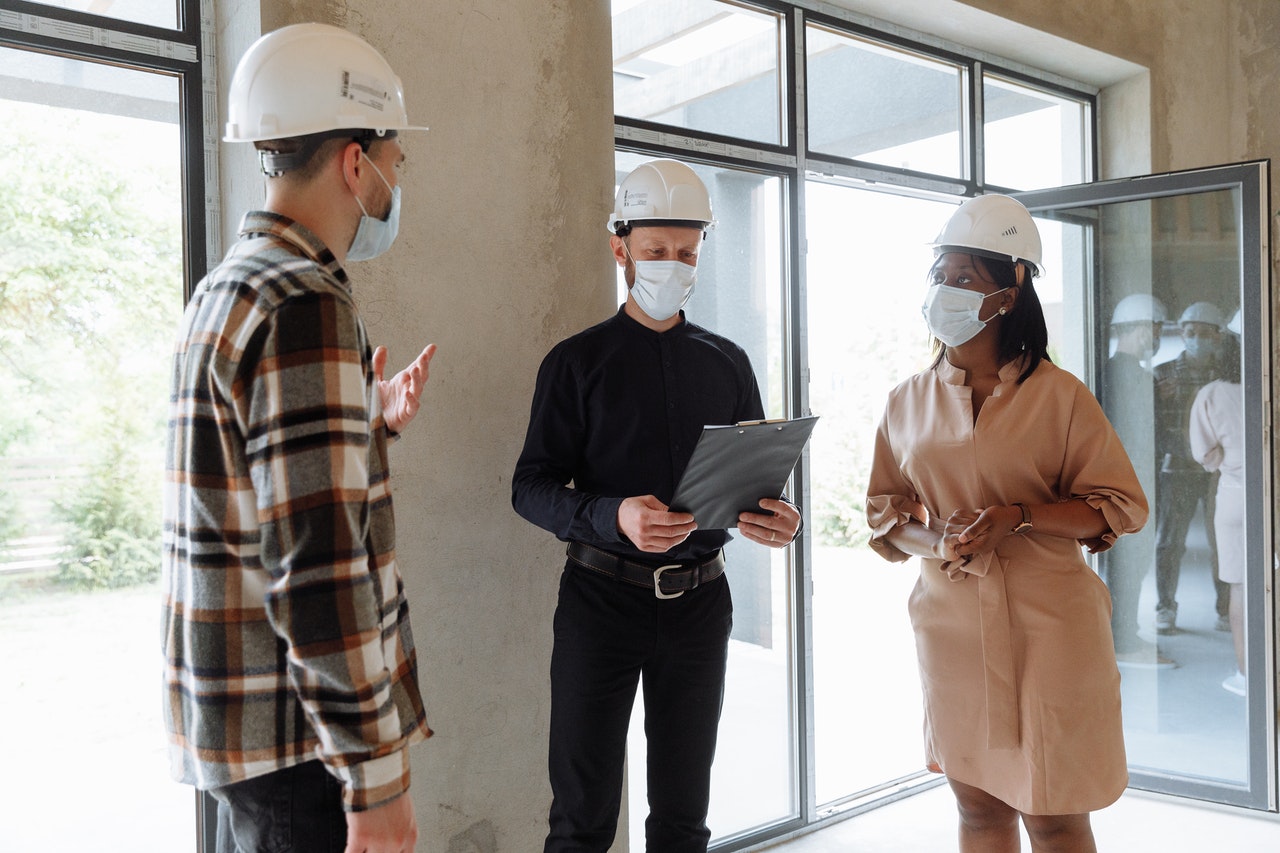 10. Create Workplace Emergency Procedures
Do your employees know what to do in the case of a fire? Or a weather advisory? What about a violent accident, or some other urgent situation?
Create a plan and then inform your employees of what they can do if the worst-case scenario becomes a reality. Here's a starter list of emergency events to prepare for:
Fire – Employees need to know how to safely evacuate a building and where to go once they've exited the building
Medical – Employees should have access to first aid and be able to call 9-11 from a company phone line
Suspicious behavior – Employees should know the appropriate way to handle persons who are exhibiting suspicious behavior
Active shooter – Employees should know their exits from any part of the building, and should also know where to hide
Severe weather – Employees should know where in the building they can seek shelter in case strong wind causes broken glass or flying objects
Bomb threat – Employees should know who to contact if they receive a threat of an imminent bomb attack and how to safely evacuate
Hazardous spill – Employees should know to alert the responsible parties and how to safely evacuate from the area
In addition to sharing these emergency procedures in your employee training sessions, it's always a good idea to post signs around your workplace to remind your employees of what their options are in the case of an emergency.