Easy, Simple, Powerful Visitor Check In for Behavioral Healthcare
Start a 14-day free trial and create a seamless visitor experience
Put clients at ease with intuitive visitor management for your behavioral health practice
We understand how stressful the waiting room of a clinic or office can become.
For the patient walking in the door, does your provider even know you are there for your appointment? For the therapist or practitioner, are you sure your client has arrived?
That anxiety can be even more amplified at behavioral or mental health practices. When clients arrive for their therapy appointments, they may often feel anxious — especially if it's their first visit. The last thing you want is your patients worrying even more about whether you know they've arrived, where to wait, or when you will be out to bring them in for their session.
Whether you run a solo practice, have multiple professionals operating at your office or multiple locations, unexpected visitors and deliveries can further affect your guest arrival and greeting process. Behavioral health offices should take the extra step to build a check-in process that relieves patient and practitioner anxiety, allows for patient privacy, and paves the way for a successful appointment.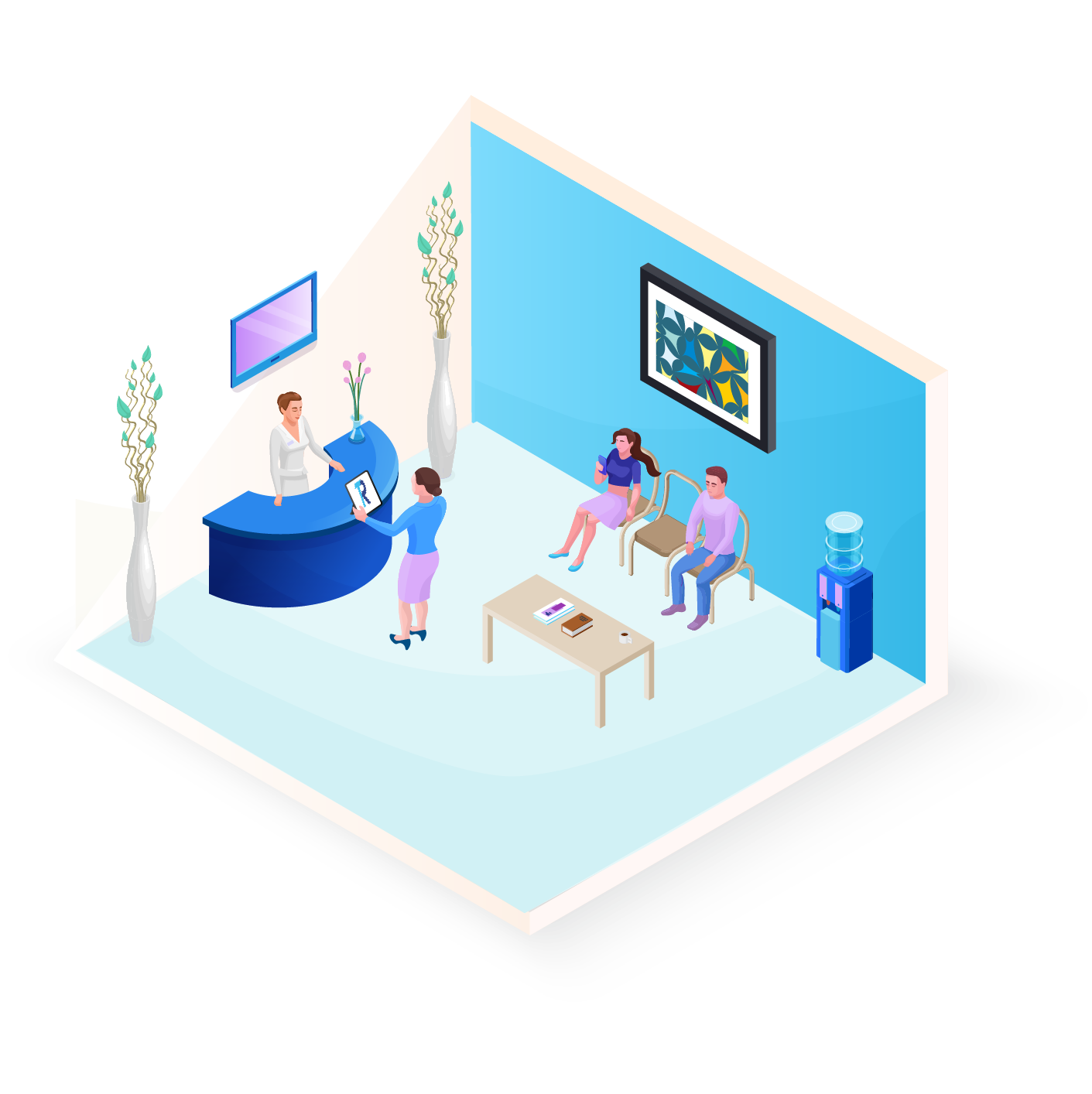 The Complete Guide to Visitor Management for Behavioral Healthcare Clinics
Download the Guide
Featured Business Case Studies

Spotlight on Sarah Suzuki from Chicago Compass Counseling
Listen to the Podcast episode
Interruptions vanish for wellness practice thanks to visitor management system
The Receptionist at Your Practice
Watch sample check-in videos with some of our current behavioral healthcare clients, and hear more about why they love using The Receptionist in their own practices.
Sarah Suzuki gives a virtual tour of her iPad Receptionist and it's instant notification system at Chicago Compass Counseling
Watch as Mark Strubler walks through what a typical check-in looks like at the Therapy Space Location in Troy, Michigan.
---
The Receptionist for iPad Features
Move on from paper logbooks, antiquated lighted status systems, or plain old guesswork. Take out all of that extra stress of receiving clients to your practice with a visitor management system like the Receptionist for iPad.
The top-rated digital front-desk solution for behavioral health professionals, our iPad-based application can quickly check-in visitors, notify their specific practitioner that they have arrived, and facilitate a two-way chat between patient and therapist before the appointment has even started. More benefits include:
From easy pre-registration to fast-tracking clients who have visited before, The Receptionist for iPad can automate many of your daily reception responsibilities so you and your team can take on the tasks that require a human touch, like making your clients feel welcome.
Secure, Private and Easy-to-Use Check-In For Your Practice

---
Try us out at your own therapy office or behavioral health practice for free. Start a 14-day free trial (no credit card required) to see how we can ease lobby anxiety.
14-day free trial
---